Reward in Research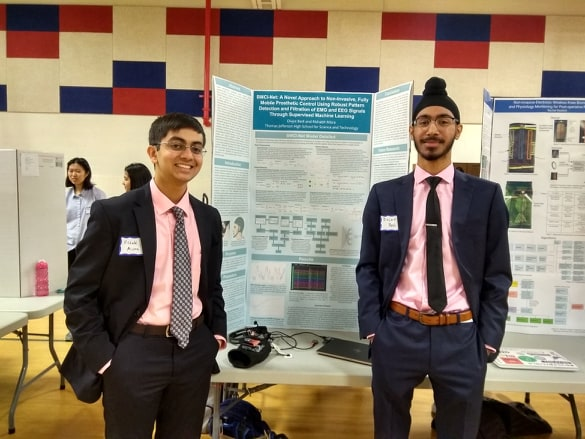 *This article was initially published in tjTODAY's May 2019 magazine issue
Molecular biology. Animal sciences. Embedded systems.
Just three categories of STEM, displayed at Jefferson's science fairs. Just three of the categories that students carve out hours for. Just three of the categories that students create innovative projects for.
Since their freshman years, sophomore Maria Izzi, junior Divjot Bedi, and senior Korrina Gidwani have all been a part of science fair culture at Jefferson, the avid participation amongst many students in the Jefferson and other science fairs. Over their time at Jefferson, they have dedicated time to exploring scientific discoveries and presenting their work to audiences of all sizes.
Motivations
Gidwani first began her science fair career at Jefferson with a project based on what she had learned in Design and Technology, and she notes that throughout her four years, incorporating information learned in her science courses has remained a constant.
"And I just had a fantastic time, trying out new statistical tests, and just stepping out of my comfort zone to apply my classroom knowledge in a different setting," Gidwani said. "So I figured that that was a great way to just gain some hands on experience and learn more about what I'm learning and plus. So that's why I decided to continue with all four years and just incorporate different information from my new classes and or incorporate that into my new projects."
Gidwani also notes that science fairs have enabled her to explore her passion for medicine, and Izzi echoes this idea.
"I found that through research I could explore many different fields of science and see which I enjoyed more," Izzi said. "When I was younger, I participated with my friends as well, and I found that collaboration to be one of my favorite parts."
Similarly, Bedi found that his science fair lit a spark of interest in research that continues till today.
"After my first science fair, I found myself really interested in science and developed a passion for research. Creating a breakthrough discovery and enhancing existing human knowledge sparked my curiosity and intuition," Bedi said. "With this newfound fascination, not only did I find myself competing in science fairs, I began attending scientific seminars and poster sessions to learn more about the latest developments in science."
For Izzi, competing in the science fair gave her more than the opportunity to satisfy her curiosities — Izzi also received the chance to conduct research in a university lab.
"After freshman year, just the opportunity to conduct research in a university lab with professional mentors was an incredible experience," Izzi said.
Beyond Science
But for both Gidwani, Izzi, and Bedi, the benefits of completing science fair projects stretch far beyond the realms of science. Gidwani highlights how science fair has brought out how competitive nature and problem-solving skills.
"It's made me more competitive because it showed me how much I want to improve my own performance over time. And I've just worked hard to improve my presentation skills and my public speaking skills my ability to answer the judges questions," Gidwani said. "Another way it changed me would be I really just become a better problem solver. Because I have stepped out of my comfort zone, it's really allowed me to think creatively and figure out different ways to approach scientific problems."
Meanwhile, Izzi touches on how competing science fairs has helped her improve her preparedness for competition.
"I learned that you can never be too prepared when I was asked a question by a judge that I found difficult to answer. I thought I knew as much as possible about my topic, but I realized that having the extra research on hand would have benefited me," Izzi said. "Sometimes the outcome that most people predict doesn't actually occur, and we have to be prepared for all possible results."
Nearly every scientist, both budding and professional, has experienced hardships throughout their research, and for Bedi, these obstacles have been amongst the most impactful aspects of his science fair career.
"I feel that the greatest contribution that science fairs have brought to my life is persistence. Throughout the research portion of my project I found myself continually frustrated because of systematic errors in the data and results that I couldn't quite fully explain," Bedi said. "Yet, because I remained persistent, I always found a new way of analyzing the data which ultimately generated novel findings."