Seven Jefferson students receive National Merit Scholarship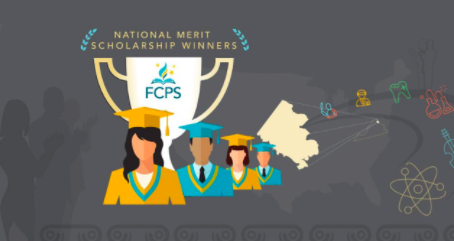 Fairfax County Public Schools released the names of the National Merit Corporate-Sponsored Scholarship winners from the county on Wednesday, April 22.Seven Jefferson students received this award. The scholarships are provided by corporate sponsors for National Merit finalists who either are children of their employees, residents of the communities the company interacts with, or have college major or career interests that these corporate sponsors want to encourage. 
In order to be chosen as a semifinalist, a student's PSAT/NMSQT score must meet a certain threshold. After this, , an essay and application must be filled out to be considered in the finalist round. 
"After you become a semi-finalist, which is based on your PSAT score cutoff, you have to write an essay and fill out the application portal. It was relatively simple, and similar to the college application process,"  senior recipient Sanjana Meduri said.
In the official announcement of the scholarship recipients, next to each recipient's name was a probable career field. For senior recipient Trenton Elliott, his career field was listed as electrical engineering.
"I chose Electrical Engineering as my field because I loved Mr. Bell's analog and digital classes as a Junior," Elliott said, "I wanted to pursue signal analysis and data transformation, so I thought that electrical engineering was a suitable field for me."
The corporate sponsored scholarship can be used by recipients to help pay for their education at any accredited U.S colleges or universities of the recipients choice and can be put toward paying for their tuition.
"The money is required to go to funding my education," Meduri said, "so it'll help me pay my tuition at school."
For future scholarship applicants, current recipients advise that organization and keeping track of deadlines is important.
"My advice is simply to organize your emails and make sure to be proactive with deadlines and dates, " said Elliott, "some of my friends forgot to submit the essay by the deadline and forfeited their chance to win."