Dr. Brabrand hosts live COVID-19 Q&A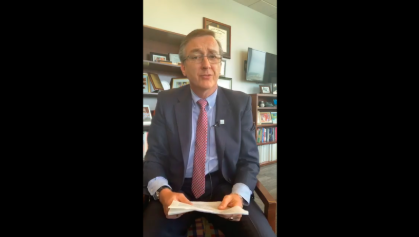 Dr. Scott Brabrand, Superintendent of Fairfax County Public Schools (FCPS) addressed questions from FCPS staff, students, and parents about the COVID-19 closure on March 20, 2020 through Facebook live. 
Dr. Brabrand first answered questions of many students and teachers regarding the third grading period.
 "Gradebooks are not closed. We are working very hard to make sure that for all assignments prior to closure, there will be an opportunity to complete them," Dr. Brabrand said.
Brabrand also relayed information he received from the U.S. Department of Education, about allowing states to request a waiver for the standardized exam administration this year due to the outbreak. The Virginia Department of Education will provide guidelines on SOL administration in the coming days. 
"We are very happy that the federal government is providing states the opportunity for flexible waivers," Dr. Brabrand said.
Additionally, The College Board has announced that they will not be conducting face to face AP exams. Brabrand also said that current online campus courses and summer Economics and Personal Finance courses will be available starting March 30. 
Many seniors had concerns about the status of prom and graduations. Dr. Braband stated that he will try to delay the decision to cancel prom as late as he possibly can, and is committed to holding some type of graduation ceremony. 
"Graduation is pretty important to me, and I am glad that Dr. Brabrand is taking it seriously," Jefferson senior Prateek Gunnam said. 
For many other aspects of school including spring sports and summer school, Dr. Braband was unable to provide specific details because of the uncertainty regarding the future of the outbreak.
"We're all in this together and Fairfax County Public Schools will persevere. Stay strong," Dr. Brabrand said.