Latin department hosts annual Certamen Event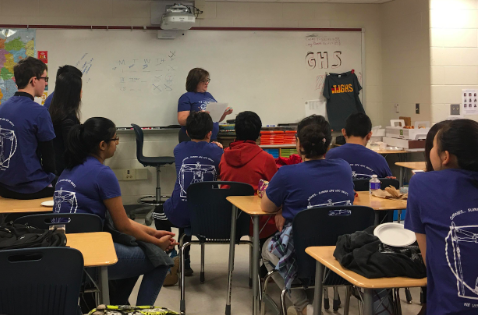 Jefferson hosted its annual Certamen event on Feb 29, 2020. Certamen is a competitive, quizbowl-style latin game in which students are asked a variety of questions about greek and roman mythology, history, and grammar.
Latin teachers, officers, and students volunteered to organize and all volunteered to help set up the event. The logistics of the event presented several challenges to everyone involved.
"Since we organized the whole event, we had to think about which school we're sending [invitations] to, and logistics for the event including food," senior and event organizer Justin Han said. 
There are many things to think about planning an event like this, when so many schools all come to one school for a morning of games and fun.
"One of the things that's difficult is that we never know how many teams are coming until very close to the end," Latin teacher Christine Conklin said. "We don't know exactly how much food to buy and how many water bottles to order."
This year, a major challenge arose while preparing for the event the night before, even though the officers thought they had prepared for everything.
"We had an entire school dropout, which was bringing five teams, so that brought our progress down," Han said. "We had to merge [skill] levels and we had to figure out awards and finals for that level. It was really challenging, because we had not planned for that one. And we had to figure it out the day of."
Despite the inconveniences, the event turned out to be a success from the perspective of the organizing committee. 
"Everything went pretty smoothly," Han said. "This year, even though all those teams dropped out, we were able to go on schedule, and everything was a success."