Jefferson boys varsity basketball team loses to Lee Lancers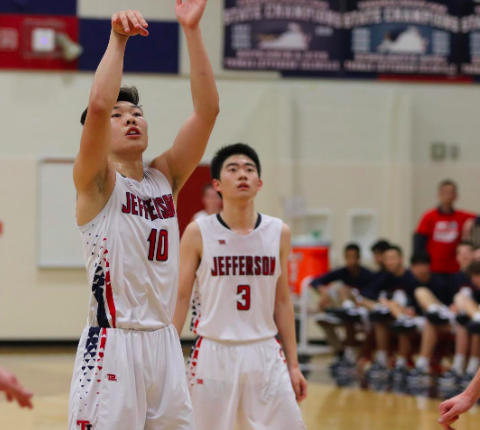 The Jefferson boys varsity basketball team lost to the Lee Lancers on Friday, Feb. 14, 53 – 47. Lee got out to an early lead, but Jefferson bounced back in the third quarter, leading 36 – 27. The Colonials were unable to hold on to their momentum in the final quarter, and could not claim victory as time expired. 
"It's always tough to take a loss when you're ahead by a significant amount so late in the game," Gray-Mendes said. "We were hoping to end the regular season on a four-game winning streak."
The regular season started in November, and will end in late February. The team spent several hours on the court everyday after school, to improve their skills and play. They spent time practicing fundamentals, reviewing game film and developing plays.
"We've all put in a lot of work and have seen it payoff,"  senior and team captain, Alex Yu said. "We have really come together as a team, learning how to close out games."
As the regular season comes to an end, the team recognized the seniors, many of whom have been a part of Jefferson basketball for all four years of high school. The memories and experiences have shaped their time at Jefferson.
"I started on JV as a freshman, and saw myself trying to learn as much as possible," Yu said. "This year, I've carved out more of a leadership role in complement with my play on the court."
Although the last game might not have been the result the team hoped for, the Colonials believe they are well-prepared to bounce back. They are in the National District Basketball Tournament, fighting to be named District Champion.
"I've seen a newfound fire in practices to do something big in the postseason," Yu said. "The loss has only made us more motivated to finish strong."
Jefferson has important games coming up, and they are doing everything to prepare. Coach Gray-Mendes has made the team study film for the Regionals game against Stone Bridge.
"Stone Bridge is a very fast team that shoots extremely well," Gray-Mendes said. "The good thing is that we have a lot of time to practice."
The boys basketball team will play the Stone Bridge Bulldogs on Tuesday at 5:30 p.m. for the Regionals game. 
"The crowd that showed up for Senior Night gave us an indication of how well we can play when we get support from the stands," Gray-Mendes said. "We are hoping for a big crowd at Regionals."