A toy at TJ: A tale of triumph and trouble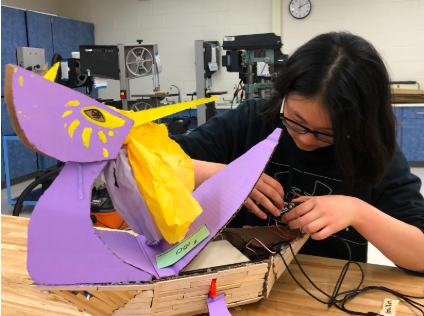 Motors whirring, music playing, lights flickering, and a dragon head on a boat. This year, the Design and Technology team introduced a new project to freshmen: to build a toy for children. 
"[The teachers] wanted the students to design and build earlier," design and technology teacher Kristen Kucko said. "I think it's really valuable to do hands on building prior to the robot project."
Freshmen Christina Han and Mira Kim decided to take this project to a whole new level.
"[My group's] toy was a viking ship with a dragons head on the mast as a mascot," Kim said. 
The viking ship had several capabilities, such as flapping its wings and controlling several lights.
 "It had a speaker which I coded so that it played Viking music," Kim said. "[We] managed to code the motor to make the wings of the dragon flap."
The project included a potentiometer which could control components of the toy based on exposure to light.
The group did not build the entire toy without their share of troubles. "The sheer size of our ship was so big it was really stressful, but I think that's because we were really over-ambitious, Kim said."
"When we showed [the toy] off, the button fell off." Kim said. "I was really sad because I worked really hard on it. We had so much to do in so little time, but it was fun."
The new toy project at Jefferson is likely to continue next year, as it gave students an opportunity to explore their creativity and gain experience as a builder. "The more opportunity that one has to design and build, the better off they are," Kucko said.