Freshman boys basketball defeats Lee Lancers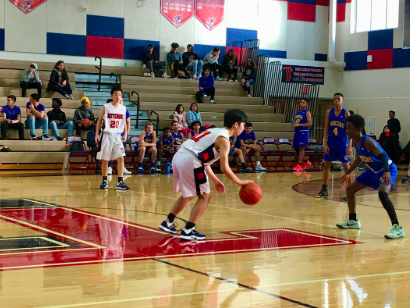 Jefferson's freshman basketball team won their final game against the Robert E. Lee Lancers at home on Friday, Feb. 14 by a score of 54-43.
This was the third consecutive win for the freshmen team. Previously, the team had beaten Justice and Trinity.  
"I think we gained confidence after beating Trinity and it just kept helping us. Our coach and team really stepped up too," point guard Justin Yoo said.
The Colonials started in the lead with a score of 9-8, but after the second period, the Lancers led 18-19. The Colonials were able to regain the momentum, and fought back during the third and fourth periods to clinch the victory.  
"We kept fighting even when the game was close and our offense was our strong point throughout the game," Yoo said.
The Colonials were committed to ending their season on a positive note, which contributed to the players exhibiting more confidence throughout the game.  
"I think the main component towards our victory during the last game was having confidence," center Hyunjae Chung said. "We lost our first game against Lee and we were determined more than ever to have revenge and also to the end the season with a win."
The victory served as an important milestone for the freshmen players who have successfully completed their first season as Jefferson basketball athletes. 
"This was a fun year of basketball and a great opportunity for me to experience high school basketball," Chung said. "I enjoyed working with my teammates, and no matter win or loss, I loved every moment during the season.