Six finalists named in Poetry Out Loud competition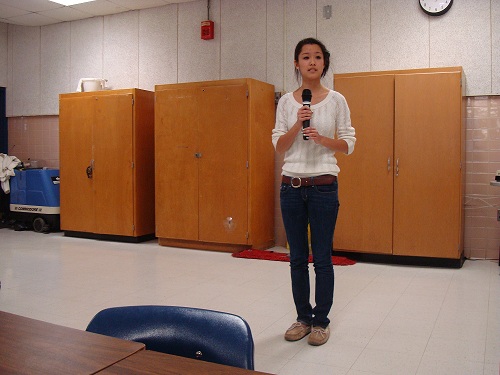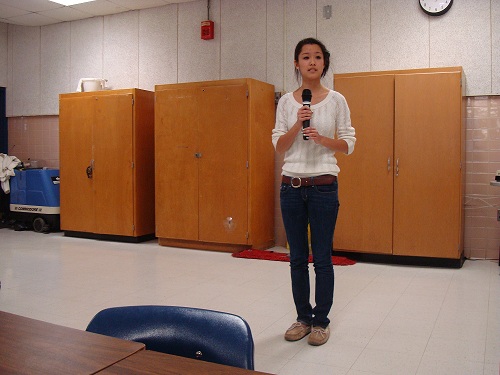 The words of Robert Frost and Carl Sandburg resonated through the cafeteria as students put their life and soul into great poems during the annual Poetry Out Loud grade-level competition last Friday.
After being chosen as representatives of their class periods,  students gathered in the cafeteria to become finalists for the upcoming school-wide Poetry Out Loud competition. Poetry Out Loud, a national poetry recitation contest, was instituted to heighten the beauty and fascination of poetry for today's generation.
During last Friday's competition, each student recited one poem and was evaluated upon accuracy and other six categories, including evidence of understanding and physical appearance. While freshman Faith Ellen Lam depicted the contrast between a free bird and a caged bird during her recitation of "Caged Bird" by Maya Angelou, junior Lucia Tian also successfully connected herself with her poem during her performance of "Broken Promises" by David Kirby.
Participants in the competition liked the oral aspect as well of getting to know great poems in the process.
"I really like poetry because it is a type of writing that is usually short but could have a lot of different meanings," said freshman Julie Lee.
Six students were chosen as finalists for the school-wide Poetry Out Loud competition – Lucia Tian, Jose Acuna, Kate Salamido, Ellie O'Reilly, Emily Sun and Kate Hao. The finalists will compete again on Dec. 7 during eighth period said event sponsor Suzette Henry.