Eminem stays in his comfort zone in surprise album "Music to be Murdered by"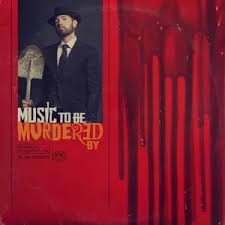 Eminem's last albums Kamikaze and Revival were heavily criticized by audiences. People believe that the Real Slim Shady has lost his touch, but does this album prove his haters wrong? The album cover pays homage to Alfred Hitchcock's album of the same name and throughout this album samples from Hitchcock's album are spread throughout the album. With the 2018 release of "Killshot", fans saw a glimpse of the musical talent Eminem has, so let's examine this project to see if he is able to navigate through his previous albums' imperfections and bridge the views of his fans and critics.
The album starts off with the song "Premonition – Intro" and sounds of stabbing, dogs barking, and a woman screaming, spreading the ominous theme of the project. A sample from Hitchcock saying "this is music to be murdered by" starts of this every song. Vocals from singer Nikki Grier create a smooth feeling until a hard metronome drop and Eminem comes onto the track rapping with his classic Slim Shady style. Eminem recounts on how critics called his 2017 album Revival too slow and not daring enough and how critics then called his 2018 album Kamikaze too angry. 
The second track "Unaccomadating" begins with a verse from Young M.A. who went viral for her breakout song "Ooouuu" in 2016. The track is about their uncooperative manner with the media and critics of their album. Young M.A. explains critics do not define who she is and continues to flex her rich lifestyle. Then Eminem jumps on the track delivering punch-line after punch-line disregarding the people who say he is not as good as his old self, and cleverly intertwines references to movies and other parts of pop culture.
On the fifth song of the album "Those Kinda Nights", Slim Shady pairs up with Ed Sheeran to deliver a catchy and bouncy track. Ed Sheeran delivers a rhythmic, but lyrically unsubstantial chorus throughout the song. Eminem starts to explore his older album The Slim Shady LP and begins storytelling of a romantic and adventurous night. Eminem's verse flows throughout most of the song, but are brought down by many corny punch-lines at the end of verses. 
"In Too Deep" is one of the best tracks on the album, and Eminem recounts a jealous relationship between him with someone where he decides to have an affair with another woman. The storytelling is impeccable, and the rhymes and flow add to the bouncy beat. Background vocals from musician Sly Pyper add to create a well-rounded song that is sure to leave the listener with more to think about.
A collaboration with late rapper Juice Wrld before he passed away, "Godzilla" is fueled by a consistent Eminem and Juice Wrld flow over with a hard bass. The two rappers of different eras compare themselves to fictional monster Godzilla and rap about being at the top and mass destruction. Juice Wrld delivers a catchy chorus that is faster than his usual flow but adds to the overall fast pace of the song. The song ends with a very fast Eminem flow that is sure to remind the listener of past Eminem songs such as "Rap God". 
Near the end of the album is "Lock It Up" with extremely versatile rapper Anderson Paak. Anderson Paak starts the song with a rap verse but then continues to start singing. Both rappers have meaningful verses that are able to give the song a unique feel than other normal Eminem songs. The two rap over a trap-type beat with rhythmic background vocals from Paak and a classic Eminem flow.
The second-to-last track "I Will", Eminem teams up with KXNG Crooked, Royce Da 5'9", and Joelle Ortiz from rap group Slaughterhouse to rap over a classic, old beat. Everyone gives powerful rap performances over this ominous-sounding beat. Eminem's chorus in this song is hard-hitting and emphasizes his skill in rap and the way he "murders" beats. The interesting cadence from the song is able to display why they are prominent hip-hop figures.
Overall, "Music To Be Murdered By" is an alright album but I don't think it warrants Eminem's rise into new hip-hop culture. Eminem definitely has a talent in story-telling and finding out-of-the-box rhymes, but his static voice and delivery can be uninteresting for many listeners. I give this album a 6/10, due to many shortcomings lyrically and musically in this album. I feel that many songs on the album do not follow the horror theme of some parts of the album, and the many samples of Alfred Hitchcock on the album are just there to make up for a lack of creativity.