Five students advance to PTSA Reflections District Finals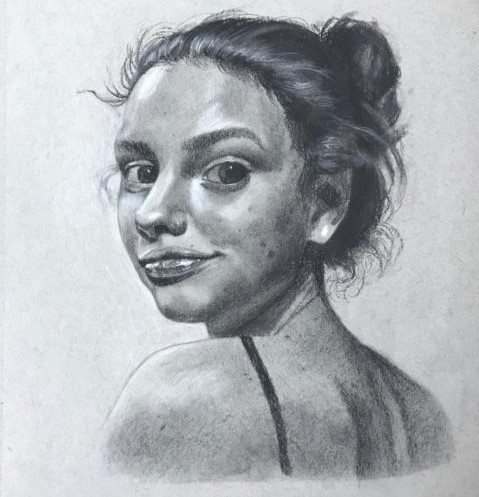 The Northern Virginia District Parent Teacher Association (PTA) released their finalists for the Reflections contest, which includes five Jefferson students, on Sunday, Jan. 5. They will go on to the district competition, then the state and eventually the national level of the contest if they qualify.
The PTSA Reflections contest has been around for almost 50 years now, and for some, submitting to it is tradition.
"I have done Reflections for years, pretty much since kindergarten… I used to think it was a thing that everyone did when I was little," freshman and district finalist Evelyne Breed said.
Reflections is one way that students are encouraged to expand their interests outside of school through their art. Since entry categories include dance, musical composition, literature, photography, and visual arts, there are many options for students looking to participate. Students can also submit projects that they have already been working on in their free time.
"Often I come up with musical melodies that I really like and I want to share them so I feel like the PTA reflections are really good outlet for sharing my music. I already had a rough draft of a song by the time the theme was announced. I eventually worked on that, polished it, made it fit more into the theme and then submitted it," junior and district finalist Kevin Davis said.
Reflections also allows students to submit art competitively at the district and national level, if they qualify, giving them a reputed place to share their work.
"I've entered the Reflections contest for the past few years. I am very excited that I made it to district. This is the first time that I've made it so far, hopefully I'll get to stay in the national," Davis said.
The Jefferson Parent Teacher Student Association (TJPTSA) and the Northern Virginia PTA did not respond to requests for comment. However, according to the TJPTSA's weekly newsletter, the contest is important for fostering artistic skills in students.
"The National PTA Reflections program has helped students explore their own thoughts, feelings and ideas, develop artistic literacy, increase confidence and find a love for learning that will help them become more successful in school and in life," the TJPTSA said in the weekly newsletter for Sunday, Jan. 12. 
In addition, each year has a theme to guide the artwork. This year's theme, "A Look Within," encourages students to be intuitive and express what they are feeling internally.
"I tried to write [the composition] so it's really introspective: thinking about your feelings and trying to improve your outlook on life," Davis said.
In a primarily STEM focused school, Jefferson students often set aside art electives for more 'useful' or advanced electives. However, art is significant to students because it provides an opportunity to hone in on a different kind of creativity.
"I think it's important because although art is not very useful [practical] in everyday life," freshman and district finalist Catherine Nguyen said. "It's a way of creativity, and it allows people to express themselves."