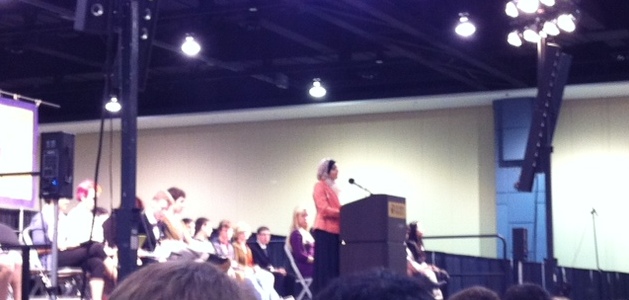 Omeish, along with a board of students from other schools in the state, will lead the VJCL for the 2012-2013 year. She plans to make several improvements to the classics program, such as increasing the communication between schools through the use of social media, promoting service projects and further publicizing the VJCL state newsletter.
In her campaign speech delivered prior to the election on Nov. 18, Omeish focused on bringing recognition the VJCL.
"It's an incredible opportunity to make a difference in an organization and a language that I care a lot about and have benefited from so much," she said, when asked how it felt to represent the VJCL.
Omeish has been an active member of the TJ Latin club since her freshman year, and was elected editor of the school's Latin Honor Society program. Since she had started Latin, her determination to become a member of the VJCL board has only grown.
"Every year since freshman year," said Omeish, as she referred to her previous experiences at Latin convention, "I have prepared frantically for tests and projects, oratory and sight reading. And every year, when I saw the VJCL officers up on stage, I knew I wanted to be one of them."
Omeish also knows that her love of Latin is what has inspired her to run for office. She plans to share this enthusiasm with the newer, younger students of VJCL.
"I look forward to working with my board and other VJCL chapters as President to move our wonderful organization forward." Omeish said.
Story continues below advertisement