Jefferson students win District 8 Congressional App Challenge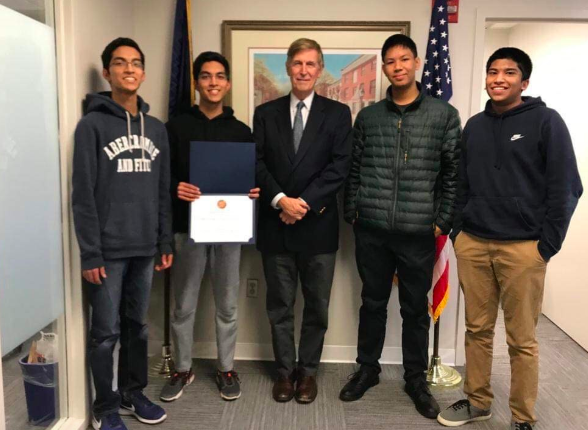 Jefferson sophomores Sumanth Ratna, Autin Mitra, Sagar Gupta and Sahil Gupta joined to compete in the Congressional App Challenge. They have been working for months, and they displayed their app during the competition in early December, winning first place for the 8th Congressional District.
The objective of the competition was to build an app that would solve a current issue. The best app from each district was the winner, and received a certificate as well as a meeting with their representative.
"You need to know your representative. It's very important," Mitra said. "We made an app called Politerate that educated constituents about their representative. It assesses politicians by looking at their Twitter posts and public news written about them. "
The team wanted to choose a topic that affected them personally, but none of the proposed ideas seemed to interest them. 
"We were meeting once when Autin [Mitra] said that none of his friends knew their representatives," Ratna said. "We felt interested, and researched further. We were shocked by the fact that 63% of Americans do not know who their representative is."
The project was mainly worked on during school, but soon the team got interested enough to start working outside of school as well. About two hours a week were spent in and out of school to work on the project. 
"It was a very fun project and I enjoyed it extremely. We got to meet 8th Congressional District Representative, Donald Beyer. That was pretty cool," Sagar said. 
Through all the laughs and the many hours put into the project, they have enjoyed spending time with one another, and are going to share unforgettable memories.
"The plan is to expand this app where it's being used by everyday people. Expect us to be back," Sahil said.