SGA makes donation to the Wildlife Conservation Society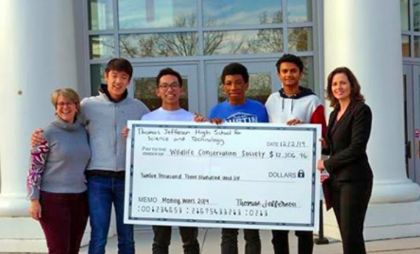 The student government donated $12,500 to the Wildlife Conservation society on Dec. 9, 2019. The money will go towards funding the WCS's goal: protecting and preserving wildlife. After meticulous planning, the student government decided to donate to the WCS based on the opinion of the student body. 
"Each year we create a poll, where we get input from the whole student leadership team," senior Ronith Ranjan, the president of the SGA, said. "The Wildlife Conservation Society (WCS) won the most votes, and I think there is interest with everything that went on with the Amazon Rainforest, and people felt a large appeal towards the WCS."
The student government raised this money throughout Homecoming week at the beginning of the year. 
"During Homecoming, where each class is competing for the money wars, all that money added up," Ranjan said. 
The reason that the SGA is donating the money now and not the minute they had it was because they were deciding what to do with it. 
"It took us about a week and a half to decide," Ranjan said. "[The WCS] has an important mission statement. We looked at their website, and at other sources. We looked at their financial information, like how they are spending the money? Is it going to some CEOs paycheck or is it actually going to help someone?"
Some SGA members needed to be persuaded that the WCS was the best place for this money to go, but in the end everyone was happy with the SGA's decision.
"I had other societies in mind," Ranjan said. "But then other people convinced me that the WCS was the best way to go."