National Honor Society and Key Club hosts service event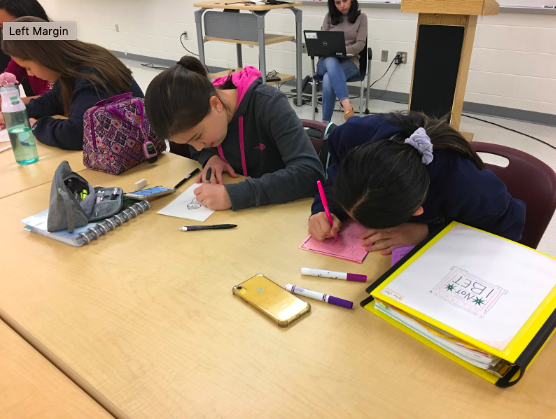 The National Honor Society (NHS) and Key Club hosted a service event making holiday cards and collecting toys on Friday, Dec. 6. The holiday cards made will be given to a local children's hospital while the toys were collected Toys for Tots, a charity which distributes toys during the holiday season to families who cannot afford them. This is the first year that the National Honor Society and Key Club, both of which are sponsored by Ms. Sophia Qamar, are hosting the service event. 
"Ms. Qamar took reign over both [Key Club and NHS] this year and since both organizations are so passionate about service and helping out the community, we decided to bring the people in both groups together to do one really big holiday card event to benefit both organizations," NHS president senior Manu Onteeru said.
At the event, participants had an option to bring in toys and make cards for  Freshman Jessica Chung especially enjoyed bringing in toys for the service event.
"My favorite part of the event was probably bringing in the toys for the kids because I love little kids and I would love to make some of them happy by getting new things to play with, " Chung said.  "It was a good opportunity to get to donate the toys for a good cause." 
Other participants were excited to be able to create a card and enjoyed having a chance to give back to the community.
"I volunteered a lot before for educational purposes so it's a nice change to do something that is not educational, but more focused on the hospitality and caring side," freshman Ellie Chen said.