Jefferson Orchestra hosts Viennese Ball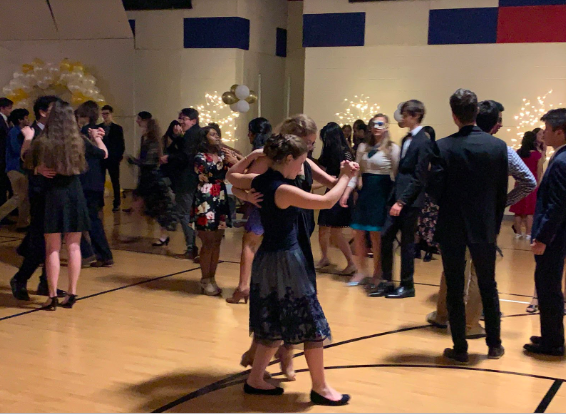 Jefferson Orchestra hosted the annual Viennese Ball in Gym 2 on Friday, Nov. 22 from 7 p.m. to 10 p.m. as a fundraiser for the program. The event had live music, ballroom waltzing and food and punch served throughout the night
"It was a really fun experience," freshman orchestra member Emma Cox said. "I met some new people that I never would have ordinarily talked with." 
However, orchestra students weren't the only ones that attended. Students in the eighth period Ballroom Dance Club have been preparing for the Viennese Ball for weeks. Veterans of the club work to teach new members the waltz during sessions, but everyone participates in the dancing. 
"Even if people are only able to come to one of our lessons, I think they get a lot out of it," senior club member Camber Boles said. "The waltz is a pretty easy dance to learn." 
At the beginning of the ball, the club taught a brief lesson in waltzing to everyone present.
 "I don't know how to dance at all, but I think that the lesson really helped me," Cox said. "It's just fun to be with your friends because they don't know what they're doing either."
One of the things that sets the Viennese Ball apart from other school dances is the presence of live music.  Each year, Jefferson's own symphonic orchestra and jazz band performs musical pieces live for the duration of the ball. Boles has participated in the ball not only as a dancer, but also as a violinist. 
"At a lot of the school dances, you can't really hear that because they just put on whatever is popular at the time," Boles said. "I love live music." 
The performers in orchestra and jazz band alike enjoyed the opportunity to play for the event.
"It was fun because you could glance up and everyone would be out there dancing to what you were playing," Cox said. "It was nice to be part of something bigger than yourself."