Fall sports awards night celebrates student-athletes and coaches
Athletes and coaches are recognized for their 2019 Fall Sports season achievements.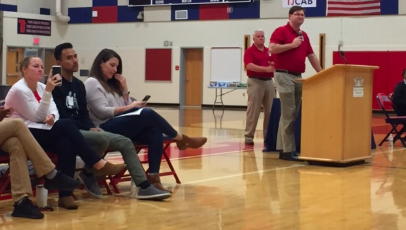 Athletes and coaches from all fall sports were recognized for their outstanding performances during the 2019 Fall season on Nov. 7th, 2019. Team members and coaches from Cross Country, Cheer, Golf, Field Hockey, Football and Volleyball came together in the gymnasium to celebrate the season's achievements. 
"TJ is very fortunate. We have a talented group of coaches. I want to give thanks to the parents, athletic trainers, team liaisons and the booster club," Director of Student Activities Rusty Hodges said.
This season, the Jefferson Football team had a winning record of 6-2, which is a marked improvement from previous seasons. Also, the Boys and Girls Varsity Cross Country teams were selected for states while the Varsity Volleyball and Field Hockey team both advanced to regionals.
The event also paid tribute to JV Field Hockey coach Aubrey Lear and Cheer coach Carolyn Leary, who are leaving the Jefferson sports program.
"Coach Lear is responsible for putting TJ field hockey on the map and making it successful at the top of the district. It will be very hard to hire someone to replace her," Hodges said.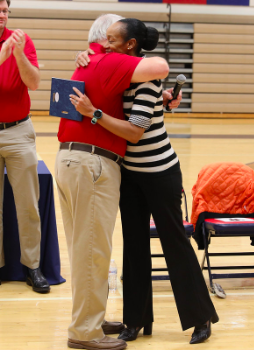 Lear has also coached freshman basketball and JV lacrosse for Jefferson in previous seasons. Additionally, Cheer coach Carolyn Leary will be stepping down from her position after twelve years. 
Awards dedicated to individual sports such as the National District Champion Award given to the Cross Country team were announced before sports separated into their groups and gave out awards to specific athletes. Varsity letters, paper plate superlative awards and senior gifts were given to appreciate the contributions of every athlete. 
"The sports programs are a collective team effort and it takes many people to make it happen. Fall Sports Awards is a way to recognize everybody for their involvement and contribution in sports," Hodges said.