Boy's Varsity Cross-Country team places first in districts
Boy's Varsity Cross-Country Team takes district championship and prepares for regionals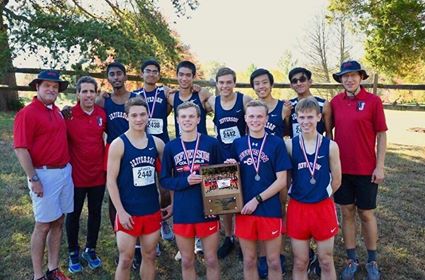 The Varsity Cross-Country team claimed first place for boys after its annual district meet on Oct. 24. This follows the Girl's Junior Varsity team placing second in districts on Oct. 16. 
"Girls got second place and the boys got first, and we're having regionals next Wednesday." Cross-Country captain Michelle Du said.
This was the culmination of several months of preparation on the part of the Cross-Country team, which began in August. The team competed against six other high schools: Marshall, Lee, Edison, Wakefield, Falls Church, and Justice. 
"This is part of our postseason, so all the meets this season have been working up to this meet." Cross-Country captain Tucker Stanley said. "This was our conference meet and we go to it every year and compete with the six other teams in our district."
The victory gives the team the opportunity to advance to regionals on Nov. 6. The team is currently preparing for the next competition.
"Our regional meet is on Nov. 6 and we are going to be preparing for it by running on the course today, and then doing our workouts and long runs this week." Stanley said. 
Stanley believes that Jefferson will perform well in regionals and reach the state competition.  
"Right now, I think we have a good shot at making states because we have a great team this year, but we need to race well and perform at regionals." Stanley said.