Loudoun buses out
Loudoun County's new contract with Jefferson leaves current and potential attendees with limited and discriminatory transportation options
Loudoun's yearly wrangle over whether to send its students to Jefferson has ended once again. The School Board voted 6-3 in favor of continuing to send kids to Jefferson, but the decision now comes with a twist. Loudoun County will no longer provide transportation for any of its students going to Jefferson, and it will send a maximum of 50 students a year starting with the class of 2024. Currently, 247 Loudoun students attend Jefferson, and 83 will join them next year. These changes  aim to save 3.8 million dollars for the county over four years.
While capping the number of students is reasonable, removing transportation is discriminatory toward less affluent students who can't afford their own way to Jefferson. The sudden implementation of this plan for the 2021-2022 school year also poses unfair problems to current Loudoun students attending Jefferson who applied without knowledge of these changes and must deal with the consequences now. Instead of implementing the plan immediately in the next school year, Loudoun should take steps over the years to carry out its full goal.
The School Board justifies their decision, noting that Loudoun will be able to save 2.2 million dollars over four years by cutting transportation. However, according to LCPS board member, Chris Croll, 0.8% of Jefferson students from Loudoun are economically disadvantaged, which makes the choice to stop providing transportation unethical and even discriminatory.
If there are about 0.8% of Loudoun students attending Jefferson who are economically disadvantaged, this means about 22 disadvantaged students at Jefferson must shoulder the burden of finding new means to make the daily school commute. Moreover, there are three main routes for traveling to Jefferson from Loudoun, one of which involves driving on a greenway with toll fees of $10.
For those who are already economically disadvantaged, cutting free bus transportation to Jefferson would mean increased spending that they may not be able to afford. Eventually, little to no economically disadvantaged students may choose to attend or even apply to Jefferson.
Eliminating bus transportation will also have the unintended effect of worsening traffic conditions and increasing environmental pollution. The two main highways used by Loudoun students, Route 50 and Route 66, are already congested in the mornings and afternoons. Furthermore, Route 66 requires that at least one passenger be present in the vehicle due to EZPass, posing more problems for students who drive themselves to school. The addition of cars on the road will mean longer waits in traffic and more pollution in the Northern Virginia area.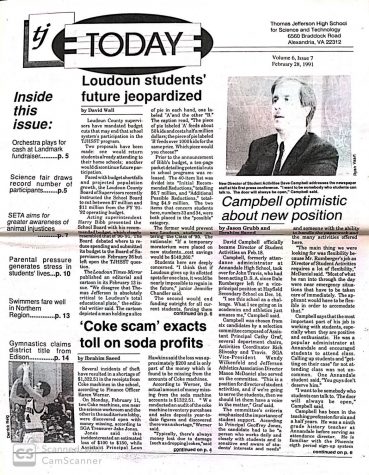 Though Loudoun taxpayers complaining about funding being funneled to Jefferson support the school board's decision to remove busing transportation, the LCPS school board should instead focus on making the Academies of Loudoun rival Jefferson in terms of how immersive its experience is for students.
Despite millions of dollars invested in the Academies of Loudoun, ACL currently doesn't offer a daily program, and students must attend the academy every other day of the week.  If the Loudoun County School Board finds it in their best interest to redirect talented, gifted students to ACL instead of Jefferson, then they should ensure that ACL provides a program students can attend every day so that applicants from Loudoun County have the equal option to attend Jefferson or ACL, instead of preventing those who wish to attend Jefferson.
Even though there are merits to saving money and encouraging growth of ACL through immediate transportation cuts and caps on the number of Loudoun students sent to Jefferson, the same results could be better achieved by slowing down this process. The LCPS Board should gradually lower the cap on Jefferson students from Loudoun every year while still offering free transportation those attending Jefferson. This way, the county will still be saving thousands of dollars without discriminating against economically disadvantaged students.
At the very least, LCPS should still provide free transportation for current attendees and the incoming class of 2023 until graduation. They made the choice to attend Jefferson before LCPS decided to eliminate transportation. Ultimately, LCPS should neither remove Jefferson as an option for their students nor force Loudoun-based Jefferson students to find means of transportation for themselves. Rather, they should consider gradually reducing the number of Loudoun students allowed to attend until LCPS is able to easily pay for transportation costs.