AP Pre-Registration frustrates freshmen and sophomore students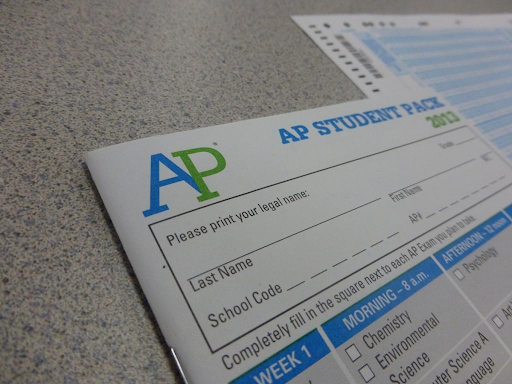 Every year, students taking Advanced Placement (AP) exams nationwide must complete pre-registration procedures in order to fill out necessary paperwork before the testing date. The Jefferson junior pre-registration session was on April 22 and April 29 during lunch for freshmen and sophomores.
In contrast to previous years, Jefferson's pre-registration process was altered this year. This new process frustrated Jefferson students as they believed it was inefficient and unorganized.
"They shoved us into a classroom and gave us random packets of paper," sophomore Yeaeun Chung said. "And then they told us not to do a lot of stuff, because they said they were going to guide us step-by-step, but they didn't."
Walking towards the Lecture Hall, where the session was held, already a long line crowding the hallway had formed. From there, as students entered the room, they flocked around a table with everyone's paperwork. The room was filled to the brim with students and overflowed into the surrounding classrooms.
With not enough chairs for everyone, students stood in clusters around tables for a hard surface to write on. With minimal verbal directions given, students were confused and overwhelmed with the paperwork and chaos around them.
"There were so many people and nobody knew what to do," sophomore Grace Cha said. "It was really hectic."
Once students began to figure out what they had to do, they also had to complete all of the paperwork. All of the sessions went overtime and with the freshmen and sophomores split into two sessions, lunch and JLC, by their last name, more problems arose.
"We [the first session] ended late and then session two people were coming in, so it was more chaotic as people were trying to get in and out at the same time," Chung said.
Consequently, because the second session started late at the time-consuming process, they went overtime as well into fifth period, causing students to enter classrooms late. After each session, student complaints about the disorganized and inefficient process, along with the demand for the previous procedure, filled the hallways.
"Some AP tests didn't even have bins, like AP French," Cha said. "Doing it in the AP classrooms again could be a possible solution."