Jefferson Future Problem Solvers go to Virginia State Bowl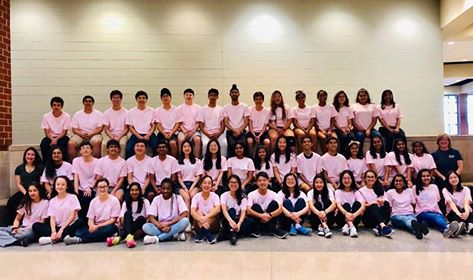 Fourteen qualified teams in Jefferson's Future Problem Solving (FPS) club competed at the Virginia State Bowl from April 12 to 13, which was hosted by Powhatan High School in Powhatan, Virginia. The Jefferson students, in teams of four, fought against one another and against other teams who qualified from all over the state.
"States is different [from other local competitions] because it's at a different school and environment," sophomore Teaching Coordinator Veronica Wong said. "Another different thing is that there are skits, where we have to perform the solution we came up with in our packet.
The main difference between the State Bowl and local competitions, however, is that in the local competitions, the teams are completing their solution packets during different times and dates and in different locations."
"In general, the competition itself is the same, just that all of the competing teams are at the same school, at the same time and more stressed," Wong said. "It's a very stressful environment, because it's States, so higher stress follows along with it than the local competitions because there are higher stakes."
Despite having to miss classes and the extremely stressful environment, Jefferson students are grateful they qualified and were able to participate in the intriguing, futuristic problem-solving. Students revealed that they do FPS because they feel that it has benefits over other possible competitions.
"FPS is not as competitive as other extracurriculars, and it's really fun because you get to be creative and work out problems with your friends," sophomore Shriya Varada said. "The team aspect of FPS is really nice, because you bounce ideas off of one another, you get their help, and you see things from different perspectives."
In previous years, Jefferson has been extremely success at the State Bowl, even leaving a clean slate all across the board. However this year, only two Jefferson teams, one Middle Division and one Senior Division, has qualified for the international competition, which is being held at the University of Massachusetts Amherst from Wednesday, June 5 to Sunday, June 9.
Despite qualifying for the international conference, Jefferson administration has revealed that the eligible teams will not be able to compete under the school's name because it overlaps with the two exam periods on June 7. The qualified students communicated that they were able to move the exams they had on those days to other dates and are currently working out a solution with the administration.