When you fall asleep, where do you go?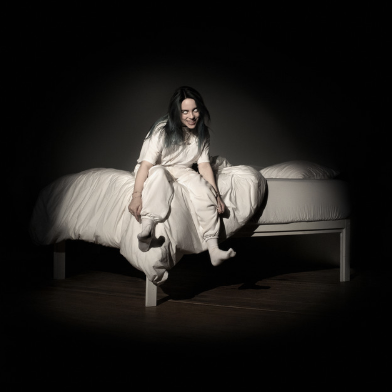 Billie Eilish is a young and upcoming artist that exploded into the music industry after her debut with "Ocean Eyes" in 2015. She has since garnered millions of followers across Instagram, Youtube, Twitter, Spotify, and other social media platforms. Recently, she released her first studio album titled "WHEN WE ALL FALL ASLEEP, WHERE DO WE GO?". As an interested but casual listener, it took me a couple of days after the release on March 29. to sit down and listen to the full album. In fact, it wasn't even until I watched a choreography video incorporating one of her new songs that I really decided to explore the rest of the album. However, I definitely was not disappointed and have since added several songs from the tracklist to my personal playlists on Spotify.
"WHEN WE ALL FALL ASLEEP, WHERE DO WE GO?" has a distinct quirky feel I would say is characteristic to Billie Eilish's brand. She packs electrifying beats, surprising rhythms, and her effortlessly versatile voice in fourteen songs. My personal favorite of the album happened to be "bad guy", one of the few songs with an accompanying music video.
"bad guy" is catchy, with short and snappy stanzas that are easy to sing along to and an infectious bass-heavy beat. The lyrics are a little sinister like most Billie Eilish songs tend to be, but the song remains playful. This is reflected in the music video, which currently has over 64 million views. It is colorful and relaxed and showcases Eilish's fashion style and carefree dancing. The tone of the video changes near the end, where Eilish's voice drops into a near whisper and the scene is suddenly tinted red. I personally enjoyed that break at the end and thought it was a clever way of changing up the video while maintaining the themes of the song.
Another track that really stood out to me was "i love you", which was a ballad about heartbreak and angst. The song includes slow singing that really exposed the raw emotion in Eilish's voice.
Overall, "WHEN WE ALL FALL ASLEEP, WHERE DO WE GO?" was an amazing album that was definitely worth my time. Each track stood out and displayed various elements of Billie Eilish's extraordinary talent. I look forward to seeing what she brings to the music industry in the future.