A New Decade, A New TJ STAR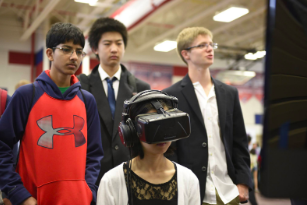 After months of deliberation and discussion, the format for this year's Thomas Jefferson Symposium to Advance Research (tjSTAR) has been determined. The tjSTAR planning committee, a team of students responsible for organizing the event, met with division managers and members of the Jefferson administration to consider several options that would make tjSTAR a more worthy experience for students, while also increasing student participation. Ultimately, the team decided on a two-day event, which will take place on May 28 and 29. Students will go to each class as if it were a normal blue-day and red-day, and the event will culminate in a keynote presentation during 8th period on May 29.
Division managers held meetings in Fall of 2018 with the tjSTAR student committee to establish the new format. The first major step involved instituting the two-day regular schedule, as opposed to the previous altered tjSTAR schedule. Because students will still go to their regular classes, the tjSTAR committee will work with teachers to bring a speaker to present during the blocks they have classes. Math and Computer Science Division Manager Shane Torbert was one of the staff members involved in orchestrating these changes.
"The tjSTAR committee is offering to organize guest speakers for classes that are not involved in student presentations. So some, none, or all of a student's classes could have an outside guest speaker," Torbert said.
One of tjSTAR's main areas of focus is presenting student research through Senior Research Labs as well as IBET (Integrated Biology English and Technology) and CHUM (Chemistry and Humanities). Last year's format allowed for students to choose Senior Research presentations, which resulted in several seniors presenting to very few audience members. This year, the tjSTAR committee and Division Managers are working to ensure that each Senior Research presentation will have a full class-sized audience.
"Within the past few weeks, we [Division Managers and tjSTAR committee] have put a schedule together for the mentorship students, senior research lab students, and IBET students, and we have identified core science classes such as Chemistry and Geosystems that will be invited as audience members for those presentations," Torbert said.
This year's new format was mainly caused by a lack of student turnout in previous years. In the 2018 tjSTAR, approximately 400 students were absent from the event – a figure that is equivalent to an entire grade level skipping the event. Though plans for this year's symposium are finalized, tjSTAR committee leader junior Hana Wong considers this year to be a "transition year" for the event, which is celebrating its ten-year anniversary.
"We are moving to a new decade of tjSTAR, and we want to improve tjSTAR for the future, so we are making this a transition year to make sure we have the groundwork and experience necessary to make this event the best it can be in years to come," Wong said.
Wong is optimistic that the updated tjSTAR will be a great opportunity for students to utilize the benefits of a special event at Jefferson.
"The main purpose of tjSTAR is to allow students to come across professional research and present their own research, which they have worked hard on. It is really advantageous for students to attend the event because they will be able to hear from representatives from companies like Uber, Boeing, or Tesla, right at their very own school," Wong said.