Weird, but in a good way
The Umbrella Academy is a different kind of Netflix show.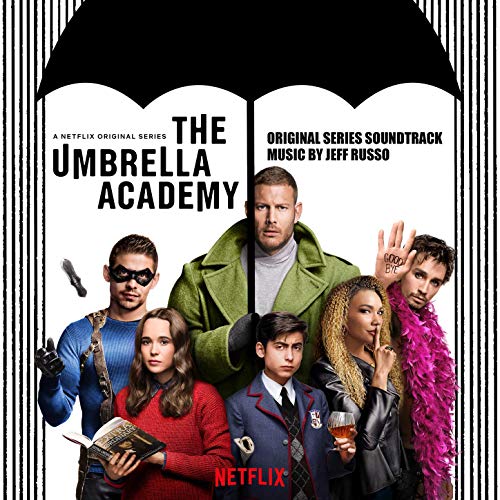 Netflix's new original series is all kinds of weird, but in a good way. The Umbrella Academy is about superheroes trying to save the world from destruction, but it's not exactly like what the Avengers had to go through.
The Umbrella Academy is  based off a comic book series written by Gerard Way, where seven dysfunctional siblings, The Hargreeves, are brought together by the death of their adoptive father, a famous inventor. There are multiple reasons for their rocky relationship, the main one being that they spent their childhood ranked from most powerful to least powerful. Luther, known as "One", has super strength; Diego, or "Two" has wicked aim with knives; Alison, "Three", can alter reality; Klaus, "Four", can communicate with the dead; "Five", who just goes by his number, can time travel; Ben, "Six", is a mystery to us all because he is no longer alive; and Vanya, "Seven", is completely ordinary.
One of the aspects that stood out to me the most was the casting. The cast was truly incredible, and each member fit his or her character perfectly, especially Aidan Gallagher, who played Five. Five is really just an old man trapped inside the body of a 13-year-old, and Gallagher did a phenomenal job portraying that. I found myself laughing at his disbelief in the stupidity of his siblings and staring in awe after he took down multiple villains. I also liked Klaus, who was just hilarious to watch.
Another aspect I liked was Vanya's transformation from ordinary to extraordinary. In the beginning, I couldn't help but feel bad for Vanya. She grew up believing that she wasn't special, and that's something people can definitely relate to. After she published a book about how lonely and miserable she felt as a child, the rest of the Hargreeves became furious, leaving Vanya even more alone than before. Oftentimes, the people around us make us feel unimportant and worthless, whether intentional or not, and this is Vanya's life.
Later, as Vanya's powers began to manifest, I was shocked. I never expected that she was the most powerful and dangerous of her siblings, with the power to control the elements of nature through her emotions. Overall, the transformation from sad, lonely violinist to angry, mega-powerful supervillain was astonishing and very well done.
The best part of the show was the soundtrack. Never before have I loved a soundtrack as much as I loved the one from The Umbrella Academy. There's a lot of old songs, like Tiffany's cover of "I think we're alone now" from the 1980s and the cover of "Istanbul(Not Constantinople)" by They Might be Giants from 1990. Probably the most iconic scene in the entire show is when Luther plays "I think we're alone now" and each sibling dances in his or her own room. Another great scene was when Five fought his way out of the diner and "Istanbul(Not Constantinople)" was playing. The song is fast and upbeat and captured the scene perfectly.
Basically, The Umbrella Academy is a crazy show with a diverse cast of characters. It's funny, weird, and has a killer soundtrack. Although the show definitely isn't for everyone, I would recommend that you at least give it a try, especially if you're a fan of superheroes. After watching the first episode, you'll likely ask yourself what you just watched, but you might find yourself coming back to see what happens.