Get your head in the game
Savannah Wilson is an inspirational female athlete with a love and passion for not only basketball, but all the great memories and accomplishments that come with it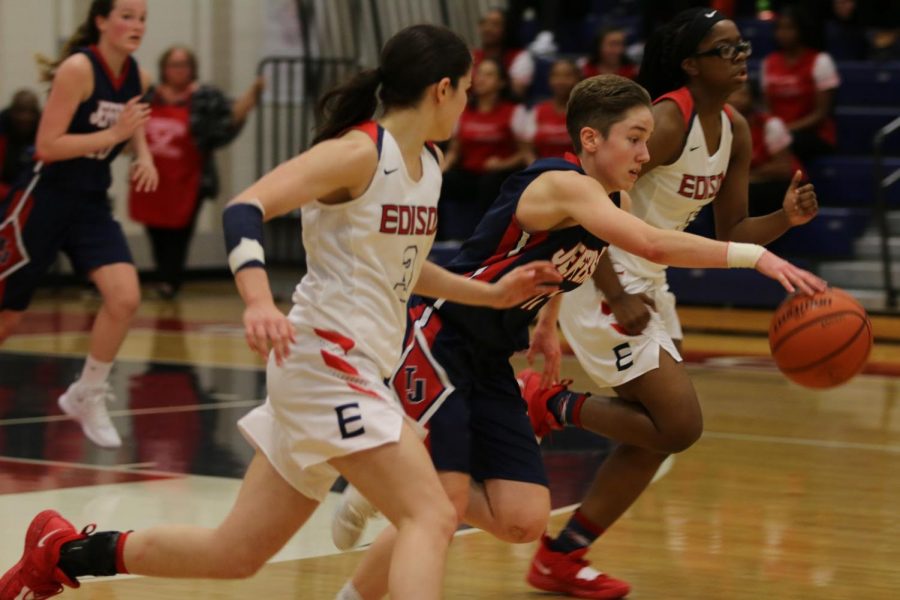 "Everything."
That's what senior Savannah Wilson feels is her favorite part about basketball at Jefferson. For some, basketball is just a game, but for Wilson, who has been on the varsity basketball team since freshman year, it's more
It's the air she was born to breathe.
"I've been playing since second grade. I played every day for a few years, a few hours a day. I was on the club team, the same team, from fourth grade to eighth grade, and then did it again from ninth grade to 11th grade. Time management and balancing school was definitely an issue for me," she said. "During the season we would have practice 6 days a week for 2 hours. We gave up Saturdays and winter break, and we didn't have any holidays off. We had practices early morning Saturday, before school some days, and late practices at night where we went home at 9 and then started homework."
Though immense, through all of this Wilson has never regretted playing basketball. The friends, memories, and accomplishments made make up for the time she lost to do homework and other activities.
"I scored my thousand points this season and was also named first team all-region. Since freshman year I've been on the second team all-conference or first team all-conference," Wilson said.
The teams first played in conference, then the best players are placed into a team and move on to regionals, and after players are chosen again, they go on to states.
"I'm more proud of scoring one thousand points [since coming to TJ] because I've worked really hard and it's nice to be able to reach that milestone, because not many people do it, so it's nice to just be able to look back and say, wow, I did it," Wilson said.
Along with these accomplishments came the wins that the Jefferson girls made as a team.
"Sophomore year, we beat Marshall to go to regionals. That was my favorite game of all while I was here," she said. "Before I came here, the team was kind of struggling a bit, and so my freshman and sophomore year we got some new talent and started to really work together. My sophomore year, we won one regional game, which was the first time in a very long time. It was just nice to see that progress that we made as a team."
Serena Williams, Alize Comet, the TJ girls basketball team. What they all have in common is that they don't let others' opinions get in the way of their game.  
"I think some guys definitely would look down on our team just because we're girls and would assume that we aren't as good as a guys' team. I think people definitely underestimate us," she said.
Recruited into York College, Pennsylvania for basketball, Wilson plans to continue playing. Although further pursuing a career in Engineering, from her current assistant-coach experience, she hopes to someday also coach a basketball team on her own. An inspiration to athletes, shoot your shot, as Wilson has definitely shot hers.