Blitzing the Boundaries
The first female football player on the Varsity Football Team, sophomore Kristen Heller finds resilience in defying social norms.
"F*ck you."
Written on the weight chart taped to her locker, these two words marked Kristen Heller's 16th day as an official player on the varsity football team.
Determined not to let the comment define the beginning of her sporting endeavors, sophomore Heller quickly scribbled them out. Two days later, she came from an afternoon practice to find the same two words on her chart, prompting her to report the incident to activities Coordinator Rusty Hodges.
"I knew it probably wasn't anything personal," Heller said. "The amount of people who know me is pretty small, so it was just someone who had decided that it was entertaining for them. I don't really get why they thought it was acceptable. But I don't really take it personally."
The only female player on the football team since 2012, Heller has become persistent in overcoming hurdles, and has a nonchalant attitude toward those attempting to bring her down.
The Beginning
With prior experience as a left wing defense on the JV girls soccer team, Heller knew she wanted to play a fall sport. Looking at the Colonial Athletics list, she skimmed past golf, cheer, volleyball, cross country and field hockey; only one sport caught her eye.
"I like that in football you don't have to hold back anywhere; you just go for it. I tend to hold back a lot when when I'm talking to people or when I play soccer. So I thought that football would be able to help a lot with soccer, other sports, and just life in general," Heller said.
In deciding to join the team, she went to her first green day on June 25, and continued attending for the rest of the summer until tryouts.
"It wasn't awkward when I showed up. [Jefferson football] is co-ed, even if there weren't any girls on the team," Heller said.
In training with the other players, she began to gain insight on the finer details of the game and appreciate what sets football apart from soccer.
"Everything [in football] is planned out to last detail," Heller said. "[Coming] from soccer, football is taking the precision of the little things that you do in drills to the next level."
Reactions
As the season approached, she experienced mixed reactions from her family and friends.
"My mom [said] go for it. But my dad, who's more into academics, he understands that sports are good, but he doesn't like it when sports come before academics," Heller said. "Then my relatives, they were like, 'Are you sure you want to do that? And it was weird, because they're not from as diverse an environment as we have here in DC; they have a bit more bias just from where they've grown up."
On the other hand, her peers encouraged the idea of Heller being a part of the team.
"For the first game where we wore [our] jerseys, people would come up and ask, 'Oh, are you on the football team?', and then they were just like, 'Oh, yeah, that's cool.' They were really, really supportive," Heller said.
On the field, the three coaches welcomed her, making necessary accommodations for her participation.
"Now the coaches have to worry about opening up a second locker room for each of them, yelling at people to keep their shirts on and stuff when we go in, [and maintaining] jock talk," Heller said.
Challenges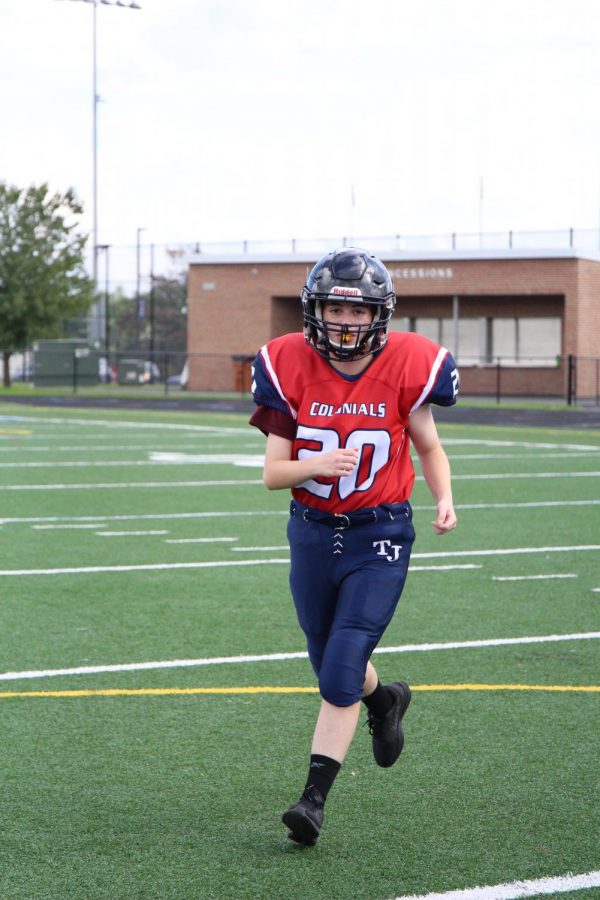 Just ten days in, however, Heller was practicing proper form for tackling when she tripped and hit her head on the turf.
"I've never actually played on the field because I have a concussion. I just came to every practice and stood and watched as everyone else went through the motions. A lot of football is remembering how to do something, so I [am] still learning even if [I'm] not playing," Heller said.
It was during this healing process that she found the note on her weight chart. Heller doesn't see the incident as an attack against her as an individual, but rather her defiance in conforming to gender stereotypes.
"[People ask me], 'Why would I join a football team?' It's a guy thing; why would I purposely go onto a field just so that I could bash other people? And then I try to explain to them that that's not really what football is like. That might be like a small portion of it, but I know that that's not what [football] is to me," Heller said.
Football, to Heller, is a fight against the limitations presented for female players. In getting past demeaning notes and battling a concussion, she plans to set an example for other girls interested in playing for the team.
"I'd say just join [football] because you're going to end up regretting it later on if you don't join now," Heller said. "And it'll be a story to tell; even if you're on the edge about it, it'll be a story to tell."