#closeFCPS: Tuesday's decision leads to icy start to midterms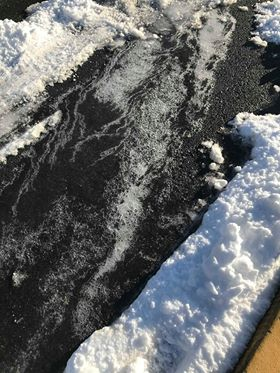 Approximately four years since Jan. 15, 2015, another blizzard swept through the DMV, causing a slew of closures and delays across the region which prompted a deluge of tweets tagged #closeFCPS throughout the week of Jan. 14. The forecast that the blizzard, which brought double-digit snowfalls and slicked roads over the weekend, would cancel school for more than one day in a row seemed definite. Despite surrounding counties closing in the wake of Tuesday's anticipated below-freezing morning temperatures, Fairfax County Public Schools remained firm on its two-hour-delay decision despite the consequences for its students.
Fairfax County was among the hardest-hit areas of last weekend's snowstorm. Throughout Fairfax County on Monday night, snow accumulated from as high as 10.9 inches in Chantilly and as low as eight inches in Alexandria. Activity in the #closeFCPS tag surged that night as students and parents worried about the morning commute on Tuesday, showing pictures of icy roads in their neighborhoods in an effort to motivate the FCPS school board to close school on Tuesday instead of the scheduled two-hour-delay.
Some students decided to take matters into their own hands through actions such as shoveling snow into their driveways so that the refreeze would prompt a school closing. Others, like freshman Jay Abraham, created petitions, whose signatures climbed into the ten thousands, that argued for FCPS to close.
"After the petition got to around 6000 signatures, I emailed the school board and told them my concerns [why we needed to cancel school] and that there were several who agreed with me," Abraham said. "I also spread the news that everyone who had personal safety concerns with having school on Tuesday could email Superintendent Brabrand in order for him to be able to assess the need for a snow day."
Unrelated to Abraham's efforts, in a first for TJ SGA, the members actively corresponded with school board members to try to clarify the ambiguity surrounding whether or not school would be closed. One member, senior Ethan Phillips, sent screenshots to the Jefferson class groups on Facebook to let other students know how the school board would handle Tuesday's situation.
However, all of this effort led to nothing since Tuesday's scheduled two-hour-delay proceeded as originally announced.
Next morning, slippery roads wreaked havoc on students coming to school. In Fairfax County, over 20 buses were delayed, causing many Jefferson students to be late to classes and midterms. Three bus accidents occurred due to the road conditions. For students living in Loudoun and Prince William Counties, which were closed at the time, the distance and worse ice conditions only lengthened their commute to school. In particular, one Loudoun bus broke down mid-route, which caused the rest of the students riding that bus to form a carpool to go to school.
"No one gave a message to the first wave of kids [the first set of students the bus was to pick up] that the bus broke down. It was only when they called the bus company that they found out and then informed the second wave of bus riders [the second set of students the bus was to pick up]," said sophomore Emerson Rodriguez.
Many FCPS students wondered why the school board decided to leave school open that day, citing a number of safety concerns coming with the refreeze such as the clearing of only major roads at the time and walkers on uncleared sidewalks. With such a freezing start to the #closeFCPS season, time will tell if these concerns will be taken into account next closing or if another delay will happen for six inches of snow.
For more on freshman Jay Abraham's petition, click here.