A gift before Christmas
The Fellowship of Christians package gifts for children around the world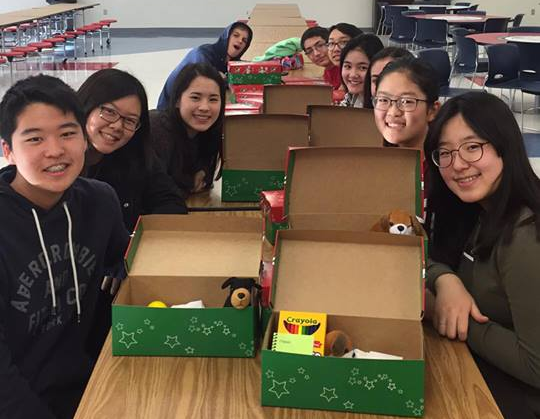 Presents wrapped in red and green, an embellished tree, and twinkling holiday lights are the first thing that come to mind when the thinking of Christmas. While these are widely cherished memories of the holiday, one of the heartwarming traditions of Christmas is spreading joy to kids halfway across the world. The Fellowship of Christians club at Jefferson dedicate their lunchtime and 8th period to pack gifts for kids who don't usually get Christmas presents. The Fellowship of Christians is a club centered around Christianity but is open to students of all religions.
"We offer TJ students an opportunity to meet weekly and learn about god,"  junior David Cha said.
The club is linked with an non-profit organization that gives out shoeboxes for people to fill with presents. They then ship those shoeboxes to children all over the world.
"We worked with an organization called Operation Christmas Child. They sent us a couple of cardboard boxes that we assembled and put gifts into. We spent a couple of weeks collecting donated gifts from our members," Cha said.
The gifts they pack are usually small toys and also other useful items. They later send them to a shipping facility.
"Usually what we pack [are] pencil, school supplies, clothing items, and some toiletries. After we packaged these gifts, we'll be joining them at a shipping center so that they can fly them to other locations," junior Junyan Peng said.
The club in fact held the same event last year and wanted to continue the tradition.
"Last year we did the same thing, except our field trip to the packaging center to deliver the gifts got snowed out. We just wanted to do it again this year," Cha said.
Part of their packaging event this year got cut short due to weather conditions, just like the previous year.
"We already had a gift packaging event but it was during lunch. It was on the day that there was a two hour delay, and our club meets B bock. And basically we missed that block because they changed the schedule. We originally packed many of the things we brought to school during lunch that day," Peng said.
It's good for students like us to give gifts and spread happiness to kids who don't have aren't as privileged as we are.
"We live in the US and not all kids have the same lives as we do and lack many of the things we take for granted. I think this is a good opportunity to think about that and give back this way," Peng said.
In the end, Christmas isn't only about unwrapping presents on Christmas morning with your family. It's also about the warm feeling of bringing a smile to a child's face from halfway across the world.
"I just enjoy being able to spread joy and the love of God to others," Cha said.