Why leave three hours early?
The scheduled three-hour early releases are a very short but useful break for students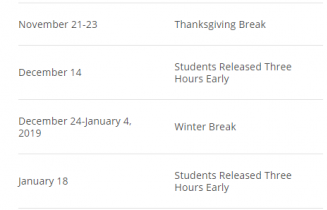 Most students agree that every school day is long and grueling. They trudge through the hallways from class to class throughout the day, waiting for the day to come to an end. Of course, once students get home, they're treated to piles and piles of homework. This is what makes early releases so appealing and a welcome gift to students.
On a day with a scheduled early release, I find myself significantly more motivated than usual. The thought of going home three whole hours earlier is exciting. Another added benefit of early releases is the extra time students have once they get home. They can get ahead on homework or study for a test, since three hours is a lot of time to be productive. This can help reduce students' workload and let them catch up on sleep. Students can also spend some time on themselves and their hobbies without feeling as though they are wasting valuable work time because they essentially have no set plan or assignment for the three hours.
On the other hand, three-hour early releases cut down class time and usually, the first thing to be cut is eighth period. Many students miss out on their favorite clubs and miss out on time that could have been spent with friends. Also, the releases may mess up the balance between red day and blue day classes, and one of the days may fall slightly behind schedule.
Despite these minor shortcomings, three-hour early releases definitely come with more advantages than issues. Most students will agree that there is nothing wrong with an an early release every once in a while, especially since it gives them extra time. Today's early release is no exception, and many will be excited that the weekend starts three whole hour earlier than usual.