Jefferson administration and higher education officials met with Amazon executives to discuss Amazon HQ2
Amazon consulted with representatives from Jefferson before making the decision to build new headquarters in Crystal City, VA.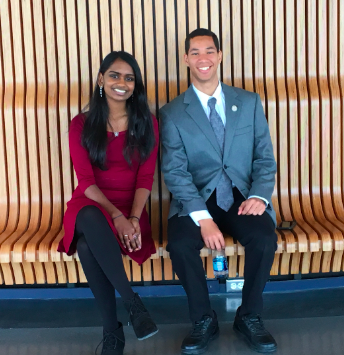 After a substantial search to find a city to be its second home for its new headquarters, Amazon publicly announced on Nov. 13 their decision to move to the Long Island City neighborhood in Queens, NY, as well as Crystal City in Arlington, VA.  Amazon launched their project to find a city suitable for their needs in mid-2017. The company, originally based in Seattle, said they plan to invest over five billion dollars over two decades and intend to hire around 50,000 full-time employees.
Originally, 238 cities around North America submitted bids for the Amazon HQ2. In late 2017, Amazon narrowed down the bids to twenty cities. Both Crystal City and Long Island City offered Amazon much of what was required for the home of their second headquarters: proximity to a large international airport, public transportation and access to a tech-workforce.
Amazon also placed high importance on the quality of education in and around the two cities selected, and Jefferson may have been influential in appealing to these interests. Dr. Ann Bonitatibus, Jefferson's principal, attended a meeting organized by the Virginia Economic Development Partnership in late February. At this meeting, members from the HQ2 site-selection team wanted to understand the talent pool available in Northern Virginia.
"It was important they [Amazon] locate where education is highly valued, and they were seeking strong tech talent who would be employable in the future," Bonitatibus said.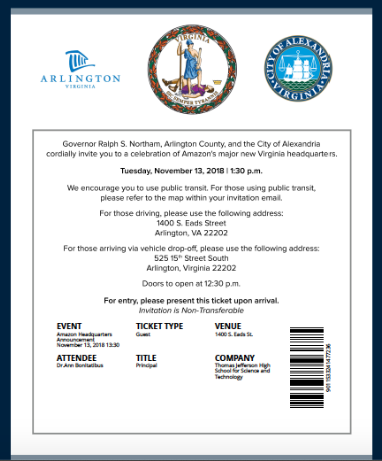 Jefferson alumni Kavya Kopparapu and William Hoganson from the class of 2018 also attended this classified meeting to give the Amazon team a perspective on the student-led research at Jefferson, as well as the STEM opportunities in schools around Fairfax County.
One of the fastest-growing companies in the world, Amazon hopes to benefit from the advantages of the highly-skilled workforce in the Northern Virginia area. Some students, like sophomore Hashir Aqeel, believe that the new headquarters will bring significant benefits to Jefferson students, especially those interested in pursuing careers in STEM related fields.
"It will be interesting to have one of the world's largest companies so near by just because it's so cool. Also, Amazon offers high school internships and scholarships, which I'm sure would become more obtainable due to the proximity of the company's headquarters," Aqeel said.
A new business coming to any area opens up the possibility for business partnerships and entrepreneurial opportunities. Amazon hopes to enhance their technology through strategic partnerships, and this includes with schools and universities in Northern Virginia.
"Amazon is very interested in making direct connections with school districts and with higher education to prepare the workforce of the future," Bonitatibus said.
The new headquarters may potentially impact internship and mentorship opportunities for Jefferson students. However, extensive conversations across different levels of leadership in both Fairfax County and Amazon must occur before these opportunities are available. Bonitatibus, however, is optimistic that Amazon's HQ2 will eventually be beneficial for Jefferson students.
"It's so early right now, in the process, that we can't be specific, but I see a world of opportunities that are ahead for us," Bonitatibus said.