(Don't) Call Me Crazy, but consider the silence broken
What can you use to define a person? Can an adjective be the sole definition of a human's life? Don't Call Me Crazy reinforces the fact that a person's life cannot and should not be defined by a single word. Especially C-R-A-Z-Y.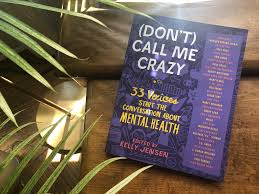 Since coming to TJ, I've had to have some serious conversations with myself about my mental state. The questions "Is this normal?", "Does this matter in the long run?", and "Is it worth it?" have roamed my head frequently. Looking for answers and hope in the words of a TJ alum, I attended the speaker event with 2003 TJ grad, Hannah Bae. She read from Don't Call Me Crazy, a publication breaking the silence about mental health. Hearing her experiences with TJ and her life as a whole, I was inspired to pick up the book on my own and read the stories of others who have struggled with mental illness and are willing to share their stories. Each author had their own experiences with mental health to write about. Some were those that were pretty "well known", and others I had never even heard about.
The book is split into 5 sections, each emphasizing a certain topic within the spectrum of mental illness. They included: "What's Crazy-defining mental illness", "Where Crazy meets Culture-mental illness within popular culture", "The Mind-Body connection- Eating disorders and effects of the MBC", "Beyond the Stress and Sadness- Anxiety and Stress in different settings", and "To Be Okay-Living with the mental illness and being "okay"".
I began this book with skepticism, wondering if this would be very technical or difficult to understand. However, all my fears were eradicated after reading the first essay. The eloquence of the writers helped me understand what was going on inside their mind, and I could visualize what they were feeling.
The experiences within the book also addressed certain stigmas about mental illnesses. Many of the writers felt as if they should hide their mental illnesses and others felt as if they didn't have anyone to talk to. Nonetheless, all the authors had overcome the fear and the stigma to start the conversation.
The most important take from this book was the sense of hope it provided. The writers of the book had gone through very challenging situations, many of which I couldn't even imagine myself in. This gave me a sense of security with the "If they can go through that, I can go through this" mentality. The book certainly made me more aware of certain mental illnesses and made me feel more confident as a student, and as a person.