Not just vegetarian
Vegetarian Society hosts their first student-organized event of the year.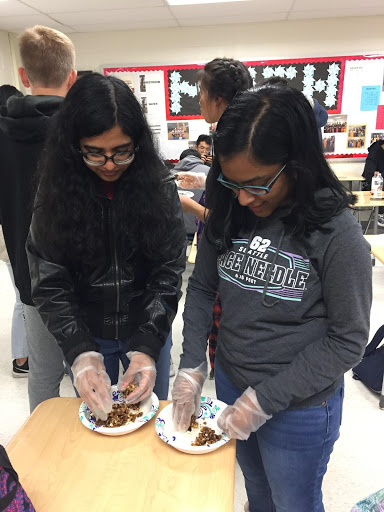 Before walking out into the cold Friday air, junior, Trishya Pagadala, takes a bite of her gooey, melt-in-your-mouth treat, sugar plums. Don't be surprised, but these spheres of joy didn't come from a bake sale, in fact, you didn't even have to pay to get them. They came from the Vegetarian Society, who successfully ran their first student-organized event of the year.
Some people are curious as to how something that seems so good could be vegetarian.  It is a stereotype that the Vegetarian Society works to eliminate, especially with events like this.
"We were hoping to do a no-bake cooking event in order to show, 'ok vegetarianism isn't just the stereotypical eating salads," Angeli Mittal, president of Vegetarian Society, said.
By creating a sweet, healthy, and entirely vegetarian treat with no baking or cooking necessary, the club is able to showcase their fundamental message: Vegetarian Society is not just about being vegetarian.
Vegetarianism and veganism don't need to be a lifestyle change.
"I feel like there [are] a lot of people in TJ who don't realize that what you eat impacts a lot of aspects of like like the environment, personal health and animals," officer Sweta Parajuli said. "Even eating a vegetarian meal one day a week makes a big impact."
In fact, a lot of what Vegetarian Society tries to do is to inform people of the impacts that their decisions make, and Mittal tries to make sure that the club sends the message of inclusivity.
"People who are really passionate about animal rights and environmental protection and so we're trying to emphasize inclusivity," Mittal said.
The event held this past Friday during B-block is not just a one time experience, so if you missed it then no worries, the Vegetarian Society will have more events soon.
"Vegetarian Society is not just about vegetarianism, we try to spread awareness about our actions and how their impact around us," Mittal said.