Sabrina Carpenter is growing up in her album Singular Act I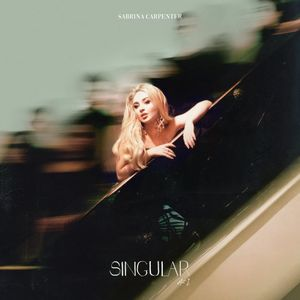 Most people who hear the name "Sabrina Carpenter" think of a rebellious and spunky Maya Hart from the Disney show Girl Meets World. You might have even seen her in the movie The Hate U Give, but Sabrina Carpenter, at 19 years old, is also an accomplished singer signed to Hollywood Records, with two studio albums under her belt. Her newest album, titled Singular Act I, was released on November 9. While her previous albums contained cute, charming songs like "Can't Blame a Girl for Trying", Singular Act I shocked millions of fans, including myself, with its maturity.  
The first song in the album, "Almost Love", was the first one to be released, in June, and it truly is a bop. Both the song and the music video surprised me because of how different Carpenter appeared and sounded. As an avid fan of her music, I can't help but notice it's a major shift; Carpenter exudes confidence and a new bad-girl persona.
It's also evident that in Singular Act I, Carpenter is not just singing about love and breakups; she's singing about moving on with total control over your life, which can be heard in the song "Sue me". As Carpenter said, "it's empowerment. It's confidence. It's being comfortable with yourself regardless of what anybody thinks." The song has some pretty empowering lyrics like "So sue me… for moving on, doing everything right" and fits right in with the style of the album. "Diamonds are forever" is another empowering song in the album with an emphasis on self-worth while in a relationship. Carpenter conveys this by using a metaphor throughout the song: "I am a diamond, and diamonds are forever." While listening to the song, I was reminded of "Fallin'" by Alicia Keys.
One song from her album which especially stands out to me is "Paris". With its catchy, mellow lyrics, the song is already amazing, but that's not the best part; Carpenter sings a few lines in French. If Shawn Mendes singing "In My Blood" in Portuguese wasn't good enough for you, Sabrina Carpenter singing in French might be just what you need.
Carpenter also displays her Parisian connection with the song "Mona Lisa", where she sings "Don't leave me hanging like the Mona Lisa." The song's theme of being noticed by a crush is reminiscent of her previous music, but the lyrics and overall sound of the song are much more mature.
My favorite song in Singular Act I is definitely "Bad Time", which brings Taylor Swift vibes to the album. From the lyrics "I'm sorry, but you've called at a bad time, and every time is probably gonna be a bad time" it appears the old Sabrina can't come to the phone either! The song has a touch of sass and falls in line with other songs of empowerment in her album, as the premise of "Bad time" is getting out of a bad relationship.
If you haven't checked out Singular Act I, I highly recommend that you do because it contains some of Carpenter's best songs yet. Although it only has eight songs, each one is worth listening to because each showcases Carpenter's growth in a different way. It's likely that you will either find a song or two you like, or fall in love with the whole album like me!