Key Center School: Learning Something New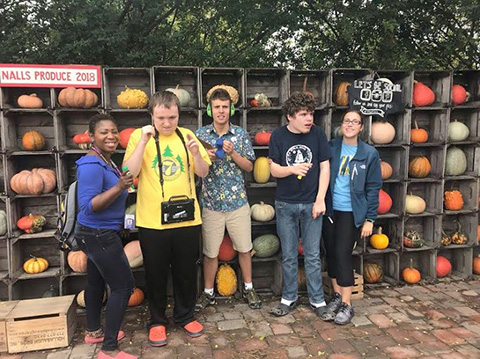 On October 16, students and staff of Key Center School proudly participated in a spirit week to raise awareness for several illnesses/disabilities, including breast cancer (pink), Down syndrome (blue & yellow), cerebral palsy (green), and lymphoma (purple).
For those unaware, Key Center School is a public day school in Fairfax County serving students with intellectual disabilities/severe autism. About 90 students ranging from age 5 to 22 attend Key Center, which provides a comfortable space for these students to learn. For each classroom, a teacher, personal health assistant, and personal health training assistant teach and serve these students. Several specific aids also work at Key Center, including a behavior resource specialist, school-based technology specialist, and numerous other service professionals specializing in physical therapy, occupational therapy, vision, hearing, speech/language, and assistive technology.
Students usually attend one of three programs: the Center-based program, Behavior Transition Program, or the 18-22 Program. The Center-Based program is the day to day classroom and community-based education program where students participate in activities such as community-based instruction (CBI) trips, vocational activities, daily living, studio (music, art, theater), adapted PE, adapted aquatics, a school-based job, and/or community service. While the Behavior Transition Program aids students with challenging behaviors, the 18-22 Program prepares students for life after graduation (although students are no longer required to participate after age 17).
When students of the Key Center participate in activities like their spirit week, it brings awareness to the whole community. This event signifies an opportunity for students, especially at Jefferson, to think about their community as a whole and learn about something unfamiliar, and even relate such new understandings to our classes. For example, according to the National Down Syndrome Society, about 6,000 babies with Down syndrome are born each year in the United States alone. The syndrome occurs when an individual has a full or partial extra copy of chromosome 21, yet this sole variation leads to a variety of unique individuals with different characteristics.
Oftentimes, we shy away from the unfamiliar because it's unknown, or we downplay the importance of such differences because we've never met such a person before. However, once we step out of our comfort zone, we might learn there's a whole new world on the other side. As such, there are plenty of ways to get involved, learn something new, and experience the life-changing.