More than a laughing matter: alumna Aparna Nancherla traces her journey from STEM high school to comedy stardom
[Online version of the cover story printed in the March 2018 edition of tjTODAY]
"Thanks for making me laugh and vice versa.  Don't know where I'm going, but I'll mail a postcard."
Alumna Aparna Nancherla left these words behind as her senior aphorism when she graduated in 2000.  Four years at a STEM-centered school left her certain she wanted to pursue a career in the humanities.
"There is such a focus on science that if you aren't as interested in it, you learn that pretty quickly," Nancherla said.  "You're like, 'I appreciate this for what it is but it's probably not what I want to do full-time.'"
Today, she is an acclaimed comedian.  She's performed on Conan, released a debut comedy album titled "Just Putting it Out There" and co-hosted podcasts such as the Blue Woman Group.  Rolling Stone named her one of the 50 Funniest People Right Now.
Nancherla traces her initial passion for comedy back to a tenth grade Shakespeare reenactment.
"Anytime we had a presentation of any kind, I would gravitate towards doing stuff on the funnier side," Nancherla said.  "I think that first piqued my interest in performing comedy."
As high school progressed, Nancherla became more interested in comedy and humor writing, but wasn't sure how to make a career out of it.  One year, when home for the summer from Amherst College, Nancherla attended an open mic in the area with friends and tried stand-up there on a whim.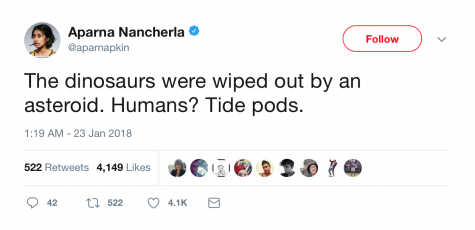 "I waited until the last possible week before I was back to school and tried it out for the first time. It went better than I expected," Nancherla said.  "That's what was initially the tipping point for me; I think if it hadn't gone as well, I wouldn't have continued pursuing it."
After graduating from Amherst, she moved back to Virginia and began building her comedy career.  She took improv classes at Washington Improv Theater in D.C. and performed stand-up three or four times a week.  In 2007, NBC selected her for their talent search and flew her to Los Angeles, where she performed for members of the comedy industry.
"At that point, I was working a day job at a trade magazine, because it seemed like a more viable career option where I could keep writing," Nancherla said.  "[The NBC talent search] might have been the first opportunity I got where I thought, 'Maybe this is something I can make into a career that's not just a hobby or something I do outside of work.'"
As an Indian-American comedian, Nancherla experienced challenges regarding the perception of a typical comedian in the industry.
"If you're a straight white guy, I think that is generally what people think a comedian might look or sound like, or the type of experience they're used to hearing about," Nancherla said.  "If you're not, you sometimes have more of a hurdle for people to understand what you're doing."
However, Nancherla does feel like this perception has changed over time – particularly with the abundance of social media outlets available to give diverse comedians a voice.
"There is an increase in platforms that you can use to make content and put yourself out there, so it has increased the opportunities for people of color and people from more marginalized communities," Nancherla said.  "Now, I feel like people are more open to [diverse life experiences in comedy]."
Nancherla takes more of an inside-out approach when writing her comedy.  She tends not to talk about her race during her sets, as it feels forced for her to do so.
"I live so much in my head that all my comedy stems from there," Nancherla said.  "[My race] isn't what I directly lead with in my own identity, so it wouldn't feel authentic to write about it just for the sake of writing about it."
Some of Nancherla's comedy stems not from her racial background, but from her experiences with mental health.  Nancherla struggles with depression and anxiety, and has described anxiety as "an edgy improv group in your brain" onstage.  Initially, the stigma surrounding mental health prevented her from fully understanding her condition.
"It took me a long time to even name that what I was feeling was depression," Nancherla said.  "I didn't know that my brain had anything wrong with it. It just seemed like, 'This is how everyone's brain is; I just need to suck it up.'"
After diagnosis, Nancherla began writing her experiences into her comedy sets by chance.  The audience's positive reaction motivated her to continue doing so.
"The first time I started talking about [depression and anxiety], I had been struggling with a particularly bad depressive rut and I just started writing about it because I thought, 'this is all that's consuming my brain right now,'" Nancherla said.  "I initially wasn't sure if I had anything to add to the conversation, but I tried it onstage and it resonated with people in a way I wasn't expecting."
Nancherla hopes that students and individuals dealing with mental illness are able to access resources that will give them the support and treatment they need.
"I think a lot of times, if you're going through something tough that's not as concrete, it can be hard for certain generations to understand," Nancherla said.  "Mental health is a serious thing and requires its own care and attention: resources of therapy or medication or just someone to talk to about it. Just giving it its own breathing room is a really valuable thing."
Nancherla advises upcoming comedians to get started, keep at it and take risks.  
"Everyone's [comedy journey] looks a little different," Nancherla said.  "It's okay to not do what everyone else is doing but be willing to push yourself, too, and not always be in your comfort zone."
Looking ahead, Nancherla hopes to continue doing stand-up.  She currently stars on the show "Corporate," appearing on Comedy Central, and wants to create a show of her own in the future.
"More long-term, I would like to develop a show where I get to be a part of the creative process from the ground-up; to write something more geared towards my sensibility and point of view," Nancherla said.  "I have been lucky in that the past few years have been good for me, so hopefully [I get to] continue on the path that I'm on right now."
Aparna Nancherla's debut album, "Just Putting it Out There," is available for purchase on iTunes.