Add "From Twinkle, With Love" to your spring reading list
I feel my heartbeat throbbing through my fingers as I peel open the manila envelope. I can't decide whether to smile or scream or sob, so I settle on a messy combination of the three. A million thoughts ricochet in my head like Scrabble letters, none of them unscrambling to make any sense.
This is what it feels like when you receive an Advanced Reader's Copy of your favorite author's next book in the mail.
After spending twenty-four hours immersing myself completely in Sandhya Menon's "From Twinkle, With Love," coming out in May 2018, I am finally ready to re-enter human civilization with a new book recommendation on the tip of my tongue.
"From Twinkle, With Love" centers on high schooler and aspiring filmmaker Twinkle Mehra, who is bent on finally stepping into the limelight and becoming a more popular version of herself. Twinkle begins working on a film for her school's showcase with Sahil Roy, the twin of the boy she's crushing on, hoping her genderbent version of Dracula will catapult her into school stardom. As Twinkle works more and more with Sahil, she becomes more and more confused about what–and who–she truly wants, especially when she begins receiving anonymous love letters signed "N."
"From Twinkle, With Love" is advertised as a romantic contemporary, and while the romance was a central component to the story, the book was more about Twinkle's journey of self-discovery than her falling in love – and this might be what I loved most about it. Twinkle is able to pursue her dreams of becoming a female filmmaker all while learning what it means to be a good friend and leader, even falling in love along the way. She never has to give up her passions for a romantic partner; rather, her ambitions come first, forming the basis for her decisions. Sahil's character was dorky and lovable, supportive and sweet, but Twinkle's immense character development and search to find herself is what made the novel for me.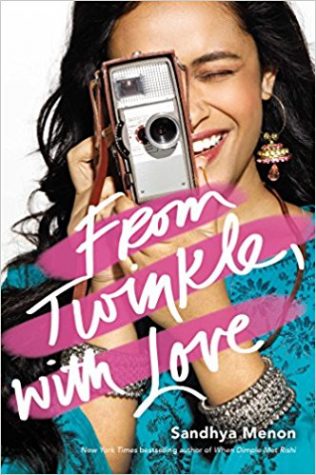 One aspect of Menon's books that I always appreciate is the agency and intelligence of their female leads. Twinkle is a smart and skilled filmmaker, and though Sahil works with her to put her film together, he acknowledges her role as the director and follows her lead. Sahil never belittles Twinkle; rather, he deeply respects her opinions and tries his best to make her vision come to life. Further, it was extremely refreshing to read about an Indian-American female filmmaker, particularly considering the absence of women of color in the modern movie-making landscape; Twinkle's strong desire to remake the world through the view of her lens made me just a little bit more hopeful for the future.
As an Indian-American, I also appreciated the portrayal of Twinkle's family in the book. At times, Twinkle feels like her family doesn't necessarily support her, since her father is often at work helping at-risk youth and her mother is still mourning the passing of Twinkle's grandmother. However, Twinkle is very connected to her grandmother, Dadi, and their caring relationship reminded me a lot of my bond with my grandparents. Menon writes Twinkle's family dynamic as realistic and based firmly in love and compassion, and if anything, I wanted even more of it fleshed out in the book. Too often, I feel that Indian parents in books fall into the "strict parent" stereotype, but that wasn't the case in "Twinkle."
If there was one thing I could critique about the book, it would be the sheer abundance of storylines: I read about Twinkle's family relationship, her crush on Neil, her feelings for Sahil, her secret admirer, her friend dynamic with Maddie and the filmmaking process all in the span of 300 pages, and while I was interested in each direction the story took, I did want a little more focus and depth for each one. Regardless, I appreciated Menon's effort to write Twinkle as a multi-dimensional character with a lot going on in her life – because such a portrayal is truer to real life than her focusing on a romantic relationship or friendship alone.
When I read "When Dimple Met Rishi," I felt like I was finally being seen. When I read "From Twinkle, With Love," I finally saw myself. Twinkle's experiences with popularity, status and confidence struck a chord with my own struggles to find my voice — all paired with yet another Bollywood romance for the ages. I can't wait to fall in love with this book all over again when it comes out in the spring.