Top 7 of 2017: Overexposed Memes
2017 was iconic in more ways than one. Before the year makes its final swansong, here's a recap of its most blessed contributions to pop culture: its memes. These are the top seven overexposed memes of 2017.
7. Winona Ryder's Face
At the 2017 Screen Actors Guild (SAG) Awards, the Netflix show "Stranger Things" won the award for outstanding performance by an ensemble in a drama series. Actor David Harbour gave an impassioned speech to accept the award while costar Winona Ryder looked on with a myriad of facial expressions. Harbour explained later that Ryder was unable to hear his speech, prompting her hilarious faces, but that didn't stop the Internet from going to town.
My year so far in a series of stills of Winona Ryder's face. pic.twitter.com/OiyOYAwia3

— Kelsey Gamble 🚮 (@kindofsquishy) January 30, 2017

6. Cash Me Outside
13-year-old Danielle Bregoli appeared on "The Dr. Phil Show" in late 2016 and, angered by the audience's laughter, demanded, "Catch me outside, how about that," in a thick accent. Her words quickly boomed into an Internet trend in early 2017.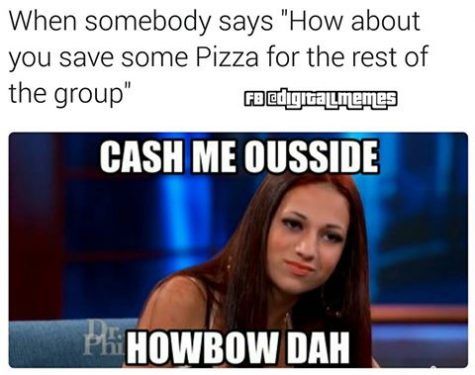 Photo courtesy of knowyourmeme
5. Expanding Brain
The expanding brain features a series of images expressing increasing intellectual magnitude, each image accompanied by a caption that expresses the irony of the trend as a whole. It is the kind of satirical jab that you have to see (read: scroll through for hours on end) to believe.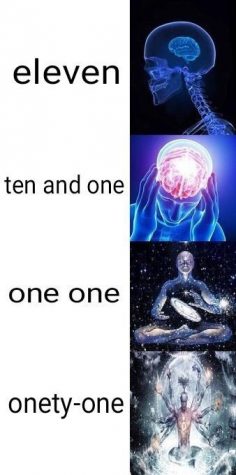 Photo courtesy of user p00nki on Reddit

4. Salt Bae
On January 7, Turkish chef Nusret Gökçe uploaded a video of him making a steak and sprinkling salt onto it with a unique finesse and flair. A screencap of his colorful salt-sprinkling took the Internet by storm, leading to the Salt Bae Meme.
My friends: Do you have to be so dramatic?
Me: pic.twitter.com/2yM7V7Ngt4

— Jen: (@jeniece_es) January 8, 2017

3. Mocking Spongebob
Mocking Spongebob originated from the television show "Spongebob Squarepants," where in an episode called "Little Yellow Book," the titular character acted like a chicken. A screenshot from the episode paired with questionable capitalization rules in text led to the birth of one of 2017's most legendary trends.
*failing classes*

Me: "Can I get some extra credit?"

Professor: "cAn i GEt SomE eXtRa creDiT?" pic.twitter.com/PJSKoyUATH

— Rich Chigga w/o the rich. Not a chigga, just asian (@BigWangTheoryy) May 9, 2017

2. White Man Blinking
Drew Scanlon, a podcaster from video game site Giant Bomb, had a bewildering reaction during the website's "Unprofessional Fridays" video. His matchless emotional turmoil swiftly caught wind as social media users applied it to relatable real-life situations.
When you watching your favorite movie with someone and an important part comes on but you look over and the person is just on their phone… pic.twitter.com/w9Kcp3IInO

— Marcus Perez (@Markaaaay) February 18, 2017

1. Distracted Boyfriend
A man looks with interest at a girl walking behind him, while his significant other gawks at him with disbelief. This was one of 2017's top memes, captured through the lens of photographer Antonion Guillem as part of a stock photo series.
Dis one right here pic.twitter.com/KcAWDmJxGf

— gotta$$$migraine (@gxngstawifi) August 24, 2017