Every step from China to America
Superintendent Custodian Junpei Yuan overcomes language and cultural barriers in his immigration to the United States.
MiJin Cho, Sci-Tech Section Editor
December 13, 2017
A 10-year period of "bewildering complexity and almost unfathomable brutality (The Guardian, "The Cultural Revolution")", the mid-1900s Cultural Revolution brought turmoil and bloodshed to more than two million Chinese citizens. The Revolution's re-education system halted educational opportunities to several generations of students. Junpei Yuan was one of them.
Living within the Revolution times in Qing Dao, China, he began to understand early the limitations to education and to his family's economic struggles.  
"The community I lived was quite poor, and getting enough to eat was the most important concern. At the time, we survived just to survive. We tried to eat enough to survive to another day," Yuan said. "Since I never really got a proper education, I wanted to learn some skilled work to be employed. Working in a restaurant was guaranteed a living, so that's how I got started."
Yuan began his culinary studies in China's Peng Ren school, hoping for a future with the restaurant business. Through establishing core knowledge in cooking, he began his career as a chef until a restaurant in America prompted an opportunity he could not turn down.
""The school's international board later published one of my articles, which got the attention of a restaurant owner, whose business was declining," Yuan said.  "He wanted my help to attract business, and he helped my family and I immigrate to America."
It was initially challenging for Yuan to find information about immigration, but his familial and economic motivations pushed him to make the big move.
"Qing Dao was a small city, with few connections to the outside world at the time. No one knew much [about immigration], and I got some information after asking many, many people," Yuan said. "My decision to come was influenced by multiple factors, such as my children; coming here would benefit their futures. I also wanted to see if I could expand the outreach of 'Peng Ren'; it was a thought."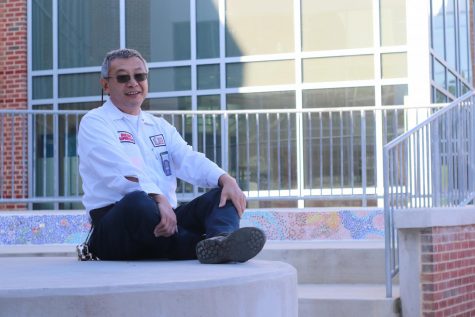 With his hopes were high, when Yuan finally immigrated to the United States with his wife and daughter in 1995, he came face-to-face with intangible language and cultural barriers.
"When I came here, practicalities took over and nothing came to fruition," Yuan said. "When I actually came here, I felt scared. There were very few other Chinese people to turn to when I had a problem. No one could understand my language, and I couldn't speak English. Even simple things like going to the store was hard, telephoning other people was hard. It was hard to live. The second day I was here, I wanted to go back."
In addition to facing linguistic and cultural changes, Yuan faced big changes within his occupation, transitioning from the restaurant to a construction site and a school.
"After a while, I had to quit my job in the restaurant because the low salary and [a lack of] insurance and benefits," Yuan said. "I did construction and I liked the job, which is why I made my own construction company. I also did a second job [as a custodian] to make money. That time, my English was just [enough] for the job. When I come into the school, I didn't have to speak English. "
In addition to working in construction, Yuan dedicated to his job as a custodian over the course of more than eight years.
"I had been a construction worker [in the past], and I realized that I could apply previous knowledge to being a custodian. It helped quite a lot. [When I first got the job], I worked hard and, after a while, the principal sent me out to officially learn [the job of a custodian]," Yuan said.   "Slowly, over time, I accumulated more knowledge and experience."
"It's important to be determined spiritually and to be motivated in the face of many problems. It was like that for me, I wanted to go back the second day I was here. I could be a manager in China with a much smaller amount of effort. Here, I had to start from the very beginning, and no one could understand me."
Today, Superintendent Custodian Junpei Yuan embodies layers of wisdom and fortification from his beginning years and continues to endeavor to learn in every aspect.
"Now, I'm a lot more acclimated to America and I'm actually not as used to some of the customs in China. I am still trying to learn here," Yuan said.  "Even though I didn't earn much in the way of academics, I still try learn more about things I enjoy. Being a supervisor, there are still some things I need to learn, even now, so I am still learning more."
In facing strife, whether it be within the Cultural Revolution as he had or another limiting circumstance, Mr. Yuan advises those looking for a new life:
"Start from the beginning and learn things anew to find a job. Don't be intimidated by the foreign environment, and don't give up."