"Kingsman: The Golden Circle" storms into theaters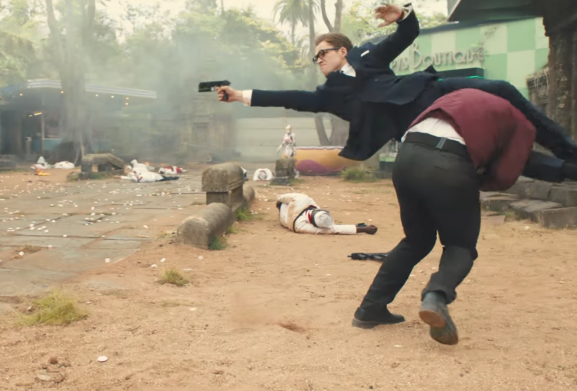 Lohit Balakumar, Staff Writer
November 22, 2017
Disclaimer: The Motion Picture Association of America (MPAA) rates Kingsman: The Golden Circle R for sequences of strong violence, drug content, language throughout and some sexual material. Viewers under 17 must be accompanied by a parent or adult guardian in order to watch the movie.
Kingsman: The Golden Circle, based off of the comic book series Kingsman, is about Gary "Eggsy" Unwin and Merlin, played by Taron Egerton and Mark Strong respectively, who look for agents of Statesman, the American version of Kingsman, after their headquarters and the rest of their agents are wiped out after a series of missile strikes. Kingsman and Statesman are two secret agencies. It focuses on the two agents and fellow members of Statesman working together to find out information about a mysterious blue rash that has infected much of the world's population.
The transitions between scenes was creative overall.  While playing the soundtrack, the frame zoomed into an object and morphed into something different but of a similar shape and when the frame reset, the setting changed and there was a smooth transition. This really conveyed to the mysterious theme of the movie, but didn't transform the movie into a horror movie.
Apart from all the action, the way the plot also incorporated components of mystery and comedy was unique. This brought out the classic spy movie plot but didn't overdo it with when the fight scenes occurred and plot changes that occurred in the movie.  While Eggsy and Merlin were held captive by a Statesman agent, "Agent Tequila," played by Channing Tatum, their faces conveyed an air of levity rather than seriousness, even when he pointed a gun at their heads and asked whether their honor was worth more than their lives. It almost looked like they were holding back a laugh as they answered "Yeah, pretty much" instead of a more serious look.
Despite the well-choreographed fight scenes, it seemed like many of them ended quickly, and rather than the classic hand-to-hand combat, incorporated gunfire. Increasing the amount of enemy bodyguards in the final combat scene would have prolonged the action, keeping viewers engaged for a longer amount of time. However, there was an excessive amount of fighting during the climax scenes, which would could have been done over one scene instead of multiple scenes.
The movie was definitely would be one of my favorite action movies.  The comedy that was integrated compared to the first movie makes you think differently of the characters but still makes you laugh.  When Harry Hart, played by Colin Firth, comes back as "The Butterfly Man", he really becomes the comical addition because of his amnesia, and Eggsy became the mentor while the first movie compared to the first movie where Eggsy was the comical character because of his immaturity.  Producer and Director Matthew Vaughn has stated that a third movie is in its planning stages and will be coming back soon, which I am definitely looking forward to.