"The Book of Mormon" returns to the Kennedy Center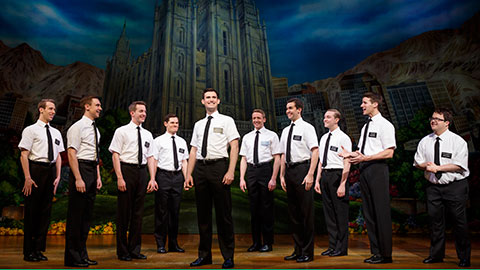 As the theater lights dimmed, a bright backdrop illuminated the stage. Three figures appeared, and began to melodramatically act out a religious event. Then, the lights darkened again.
"Hello! My name is Elder Price, and I would like to share with you the most amazing book."
The audience exploded into laughter as the opening number began. "The Book of Mormon" has only been around since its Broadway debut in 2011, but it has become widely beloved ever since. The musical is now on its second national tour, and will be playing at the Kennedy Center until Nov. 19.
"The Book of Mormon" follows Elder Price (Kevin Clay), a seemingly perfect example of a Mormon who wished he was sent to Orlando, Florida, and Elder Cunningham's (Jordan Matthew Brown), a less competent counterpart and a pathological liar, journey through their missionary trip in Uganda. When they found that converting the villagers, who face troubles like disease, poverty and warlords, more difficult than they thought, Price's faith became shaken. Meanwhile, Cunningham just might have found his opportunity to shine.
Having memorized the cast album, one of the first aspects of the production I noticed was how Clay's tone sounded just slightly similar to the original actor, Andrew Rannells. Kim Exum, who played Nabulungi both on the tour and on Broadway, gave an impressive performance, bringing emotion to her character. However, the biggest surprise performance was by Brown, who is an understudy to Conner Pierson. Since I was at a Saturday night show, I wasn't expecting understudy actors to perform, but Brown effectively conveyed Cunningham's distinct personality and was a great part of the musical's humor.
Besides the characters, "The Book of Mormon's" comedic choreography is a source of humor. The second number, "Two by Two," involves the Mormons learning about their missionary assignments, and over-the-top walking motions showed their excitement. Then, during "Turn it Off," those already at Mormon mission center in Uganda tell Price and Cunningham to deal with the village's conditions by "turning off" any bad feelings in a flashy tap routine. The wide range of genres, from jazz to rock, show the plot's rising tension without losing its humor, and the musical's versatility in appealing to different audiences.
The lyrics contains vulgarities that may be shocking at the first listen. Beyond its low-brow jokes, however, "The Book of Mormon" satirizes the Mormon religion and the "white savior" trope. All of the characters are developed fully, and it's impossible to dislike them by the end, when the cast sings, "Tomorrow is a Latter Day" in unison.