Scared, sweaty senior's first hike at Great Falls Park
To preface, 400 people have been injured on this trail.
Big breaths here. Breathe in, breathe out.
When we arrived at the emerald green wooden doors that led into the Visitor's Center, I'd never heard of the Billy Goat Trail and had certainly never been anywhere more dangerous than the short patch of rocks around Scott's Run. So this was my second time hiking, and I was convinced it would be no more than a peaceful walk in the woods, gradually making our way through the park as the landscape turned towards the sky. Needless to say, that's the complete utter opposite of the experience I actually had. However, the sweet taste of 3% extra credit points and the abundance of cute terriers and bulldogs before we entered the trail made the trip almost worthwhile.
Pausing briefly to hit a few stops on our itinerary on the way, we quickly hit the largest body of our 3hr trip: Billy Goat A. Notoriously known for being extremely difficult, the Billy Goat Trail stirred some pre-2k anxieties in me but I tried to push them aside and plow ahead.
The first part of the trail was a little rocky and partially shaded, weaving between trees and occasionally coming into the light. We hiked through a mile of bumpy terrain in 80 degree weather with a touch (50%) of humidity. Supposedly, the rocks should've varied in variation as we went along the path, but not being nerdy geologists, we saw only black and dusty rocks and took pictures of every shade of gray rock we encountered.
Then, we came out into the clearing, where we faced the full force of sunlight, exhaustion, and half a mile of a maze of sharp, jagged rocks (boulders). Picking our way through this section was like playing a game of freshman P.E. soccer: with a sharp sense of losing, you leave it all up to chance and follow where everyone else is going. We did discover though that light blue marks on the trees are there to lead the way. We questioned several times why they still keep this trail open.
After we thought we were surely done, and finally reached some shade, up ahead down the road was a straight upwards climb of around 40ft. We waited for the ones on top to make their way down the slope, which is daunting at best and deathly at worst, before pushing ourselves up this recreation-center rock climb but with no rope, recreation-center, girdle, or sense of safety. I had never been more terrified in my life except for during the next 30 minutes in which we had a full view of the rapids below.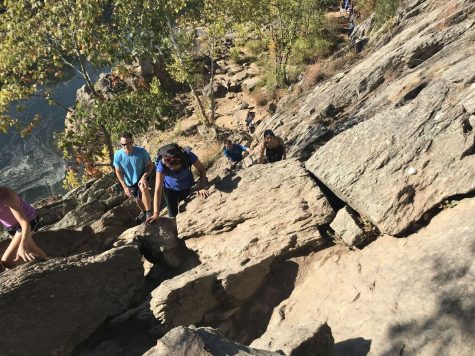 After those 30 minutes, though, we hit upon a beach and finally got close enough to feel the water. Cool and refreshing (ahh). At that point, my Powerade bottle was empty and I was really tempted to plunge my mouth into the river which had surprisingly really clear water. Then I remembered the limited survival skills that I learned in the Hunger Games involving water purification and brought myself down to reality. The scenery was stunning and we watched the fish swim around the shore for a while before heading into the last leg of our trip.
Trail Marker #3 brought us to the 2hr mark and a rapid creek in the woods with a precariously-looking but sturdy bridge above. Rounding about the tip of the island for approximately 30 minutes, we eagerly anticipated the moment that we'd get out of the seemingly endless obstacle course of rocks and more rocks. This is a video of us celebrating our departure:
After that, it was a straight shot back to the Visitor's Center, a straight, flat trail that let us observe the questionable reeds and dams as well as this single plant that persevered to grow on a rock: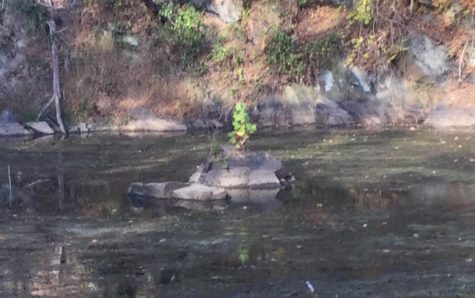 All in all, this trip was much like my four years at TJ: I'm glad I did it once, but there is no way I am ever going to repeat that again. But who knows. Humans have really bad memories. Hopefully by the time I forget how terrorized I felt, this website will still be around for me to relive the memories.
To summarize, the best parts of the trip:
Rocky Islands are gorgeous
Exercise
Cute dogs everywhere
Sound of rapidly moving water everywhere
Lots of people on the trail
The worst parts of the trip:
Exercise too easy
No dogs on trail
Fear of death every waking moment
1ml sweat/sec & constantly thirsty
Lots of people on the trail
Have fun seniors!