Pitcher Perfect: seasoned pitcher Diana Zavela reflects on the stresses and rewards as varsity softball's top pitcher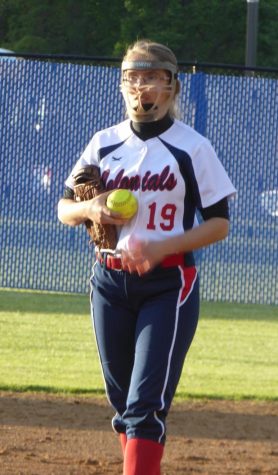 At 5 foot 3 inches, at first glance, senior Diana Zavela does not bear a formidable image; short, left-handed, but strong, three-year varsity pitcher senior Diana Zavela has had to make up for more than most pitchers do before they graduate from the team. However, Zavela has learned to embrace the challenges of being different from the rest. By developing her own unique style and technique, Zavela has adapted to her height and handedness over the course of her pitching career.
"I don't have the power and the speed behind my pitch that a lot of other girls do, but what I can do differently is I have a lot of spin on the ball," Zavela said. "I have to try to move the pitches around; so for instance, if I throw one of the pitches low, next time, I'll have to change where I throw the pitch."
Zavela switches between four different types of pitches: a fastball, a changeup, a curve drop, and a screwball, in order to confuse the batter and redirect their focus.
"If they're expecting a ball to go one place and it goes somewhere else, there's a greater chance of them swinging and missing or hitting a slow hit that we can field and get them out," Zavela said.
Additionally, Zavela has also been carrying a difficulty of another kind during her years pitching on the varsity softball team: pitching almost every inning since sophomore year, Zavela has often been the force that that makes or breaks the game.
"There is no one better because there are no other pitchers at all, so it's a lot of pressure," Zavela said. "If I had gotten injured, we would've been done for, and it's really scary."
Because the pitcher is involved in every pitch and at-bat, the pitcher is pivotal in turning the tide of the game.
"If the pitcher starts to lose control like I have done many times, it becomes nearly impossible to win the game," Zavela said. "However, in a game where the pitcher is doing well, it is much easier to make outs and win the game."
Her tenure as a varsity pitcher on the softball team began during freshman year when Zavela joined Jefferson's ranks as an average Little League player, only to discover that she was the only person on the team who had had any prior softball experience.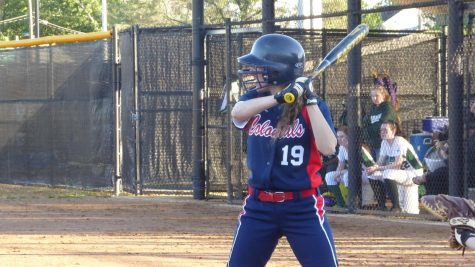 "I've played Little League, but I was really bad in Little League, so I basically didn't pitch at all from 5th or 6th grade to being at TJ, because there was always someone better," Zavela said. "Well, at TJ, I'm the only one."
Because of this situation, after just one season on the team, albeit filled with injuries and concussions, Zavela was pulled aside by her then-coach Michael Hrabak and told the responsibility that now lay upon her shoulders.
"Diana had an immense amount of experience, as she had pitched in McLean Little League," Hrabak said. "Additionally, as an experienced pitcher, she brought the most important aspect of a pitcher: a strong mental game."
Armed with the right mindset and game, pitchers must also possess a strong work ethic and an extreme focus and attention, in addition to what Hrabak calls "extremely thick skin."
"Many times pitchers in softball must deal with several factors from the players behind them, the crowd, the umpires, and ultimately themselves," Hrabak said. "With all of the elements in mind, pitching becomes the most difficult and rewarding position on the softball diamond."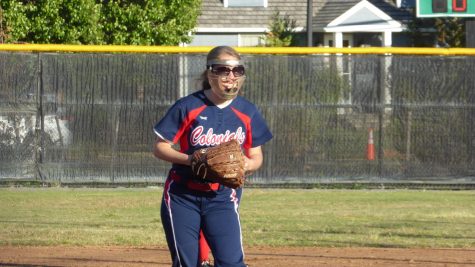 Zavela recalls the pressure that she experienced as a freshman, as well as the stress she continued to experience over the years as the team's main pitcher.
"At Spring Sports awards night, [Hrabak]  took me aside and said that the team's success was in my pitching abilities next year," Zavela said. "I was just a freshman and I hadn't spent time pitching in years, so I got super freaked out."
As a pitcher, every move Zavela makes is reflected on the team.
"I've lost games for my team basically, because I've done so badly," Zavela said. "But there are also some games where I've done really well, and I've helped win for the team, and it's very much the pitcher can easily make or break the team. Even now, when I stand on the pitching mound to begin a game, I get really nervous, because I want to do my very best every single game and I don't want to let my team down."
Over Zavela's softball career, the pressure and stress associated with the pitcher position has been frightening; however, with her team behind her back, accepting her limitations and rising to the challenge has allowed Zavela to develop self-confidence and perseverance throughout her pitching career.
"It's changed my outlook on life, especially being relied upon knowing that I have a job to do and I have to do that to the best of my ability no matter if I've had a crappy day or I just feel sick, I have to do my part and everyone else will do their part as well," Zavela said. "It's also increased my self-confidence too, because I've gotten through some days where I really, really don't want to play today, and I've had to. Throughout the years, because of the support of my teammates and coaches, I've learned to have confidence in my own abilities as a softball player and a pitcher. I've learned that I could persevere through things I didn't think I could."