New girls soccer coach scores goals with a different kind of lesson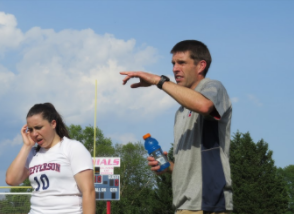 The Friday evening sunset illuminated the soccer field, bathing the players, coaches, and bleachers in golden light. He stood with one hand on his waist and one hand shielding the light from his eyes, closely watching the players while yelling words of encouragement. Finishing her jog, a girl walked by, sweat beading her face as she greeted him with an enthusiastic high five and a big grin.
It was the end of another workday for Coach Brian Collins.
Collins is the newest head coach for the Jefferson girls varsity soccer team. Not only is this his first year as a coach for Jefferson, but it's also his first year coaching a team of high school girls. Previously, he's coached boys at Woodson High School, the same school Collins played for as a high schooler until he graduated in 1996.
Collins realized he wanted to be a physical education (PE) teacher when he was in high school where he worked odd jobs, like being a bag guy for Giant, CVS, and at a warehouse.
"Those jobs were absolutely miserable," Collins said. "That's when I realized I had to go to college because I didn't want to do that for the rest of my life."
Collins decided to get his masters degree in Educational Administration at Longwood University, and now he's been a PE teacher for 16 years. On the side, Collins keeps his mind fresh by completing online course credits as well as participating in various hobbies, from fishing to woodworking.
"I'm an avid runner as well," Collins said. "Anything science and history related I'm always interested in, and I'm always looking for good podcast recommendations."
Collins calls himself  "a local" of the Annandale area, his daughter being a fourth generation Annandale high school student and his aunt being a Jefferson graduate. Along with coaching the girls varsity soccer team, Collins coaches his five year old daughter's soccer team, "The Purple Puppy Cheetahs."
Despite having previous experience, Collins believes balancing work and family had been one of the biggest challenges since becoming a soccer coach for Jefferson.
"Time management has always been a difficult problem," Collins said. "You think everything is important, and some things are and some things aren't. It's just finding that right balance and getting people on the same page, so they can work the best together and see the ultimate team goal in helping each other out."
For freshman and varsity player Tayae Rogers, her time at Jefferson helps her empathize with how Collins feels while coaching at the school for his first time.
"Playing a sport at TJ is unique no matter what because of the nature of the sport," Rogers said. "However, I think Coach Brian had to learn to adjust to TJ as a school and what to expect from the students, just as I'm learning to adjust to a new environment and a new team."
One conclusion the varsity players can agree on is that Collins has been very understanding of the time constraints facing Jefferson athletes.
"When we have a lot of tests that week, he's more lenient on us missing practice one day," junior and varsity player Sherry Xie said.
Yet, Collins tries to remind the players that there's more to high school than grades. Oftentimes before games, he eggs the players on with a short speech on the importance of sports in high school.
"Considering it's TJ, we do tend to have more academic commitments," Xie said. "But before the game yesterday, he told us about how ten years from now, nobody is going to ask about your GPA, they're going to ask about what sports you played. I guess it's tougher having kids who are more committed with academics than before."
Collins hopes that through his teaching, the girls soccer team will not only have a great experience and learn to love the game as much as he does, but will also learn to pay attention to the bigger picture.
"Sometimes we get lost in the moment of things that are more important than they actually are, and sometimes we forget the big picture of what we're ultimately trying to do," Collins said. "[What matters is what] is going to happen five, ten, twenty years from now, how you're going to be remembered, and what you're going to remember."