Rick and Morty starts Season Three with "Mad-Max" themed therapy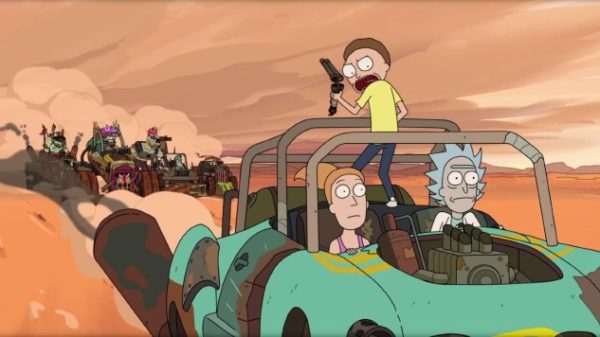 After a two-year wait since Season 2, Rick and Morty fans rejoiced on July 30th when Season 3 officially began – after the first episode was released on April Fool's day this year as a teaser.
The newest episode "Rickmancing the Stone" is the second episode of Season 3 and it's mainly focused on the divorce of insecure 14-year old Morty's parents; it shows both the gradual and not-so-gradual character development of Morty, his mad scientist grandfather Rick, and older sister Summer as the episode unveils how each character coped with the divorce.
The trio started off on a normal Rick and Morty styled adventure in a post-apocalyptic version of Earth with the 80's film "Mad-Max" theme. Each character overcame hardships and obstacles in the new surroundings; the adventure acted as a sort of therapy for them after the divorce.
However, in the beginning of the episode, everyone dealt with their issues in unhealthy ways. Summer coldly pushed away her feelings by ruthlessly killing the inhabitants of the post-apocalyptic world. Morty started off denying his feelings but it didn't take long before the rant about his problematic father came spilling out whist punching a man to death; and Rick gruffly avoided dealing with his daughter's divorce by fabricating life-like robots to replace him, Morty and Summer while the three were gone.
But as the episode dragged on, each person came to realize that they had to go back home eventually to deal with their family issues. "Rickmancing The Stone" was an example of what Rick and Morty is capable of from the emotions and intimacy aspect. The episode succeeds in working perfectly well on its own and also progressing the bigger narrative of the show and its characters. Season 3 has gotten off great with its first two episodes and now it's officially started, with new episodes every Sunday at 11pm ET on Adult Swim.