An Amateur's Guide to Purchasing The First Camera
Waiting for the arrival of my first camera is comparable to standing in front of the garage as it leisurely opens up to a brand new car. The thrill, mixed with anxiety, of having 100% access to a vehicle to travel and find adventure in every ride is a feeling that captivates the new car-owner. To me, an unlicensed student and an amateur photographer, the same thrill ignited within me as I impatiently paced in my front door, awaiting the shipment that is to hold my first camera.
The luxury of owning my own camera came longingly after two years since I found a passion for journalistic photography. I can still remember holding a borrowed camera from the Journalism class as though it was sacred. The apprehension that had filled me when holding the foreign object in my hands slowly dissipated over the course of the next couple of years as my experience with photography increased. From discovering the power of flash in Relay for Life's annual relay to attending Journalism Day Photography Session, I sought after knowledge in manual settings, using the myriad of modes, and photo angles. I immersed myself in covering games for sporting events, capturing each dance from 2017 iNite, doing a candid couple shoot, and capturing moments of TJ's highlights.
My decision to purchase a camera and a lens was backed with burning ambition and hope, but I was lost at the first step. I could not see the difference between camera types nor the numbers and letters that followed the zoom range of the lens. It was only after I consulted student photographers, Frank Ding and Lulu Lin, and reviews from a collection of photography advice sites that I found and purchased my camera and lens, along with other necessities. In retrospect, I realized that a guide from a student interested in journalism and photography could have provided a foundation for my search. For that reason, I share the following information regarding my purchase of my first camera and lens and my reason for choosing the ones I chose.
Budget
When I began my search, I was only sure of one thing: I wanted a camera and a lens. Since I only had a vague knowledge of the estimated prices of various cameras and lenses, I did not have a solid budget. Looking back, a budget would have been efficient in eliminating options of lenses and in saving around that amount for my purchase. However, especially when first looking at camera and lens options, budgets must be extremely flexible, as a combination of a lens and a camera can range from $600 to $2,700. Keeping an open mind in terms of price, I began my online search for cameras.
Camera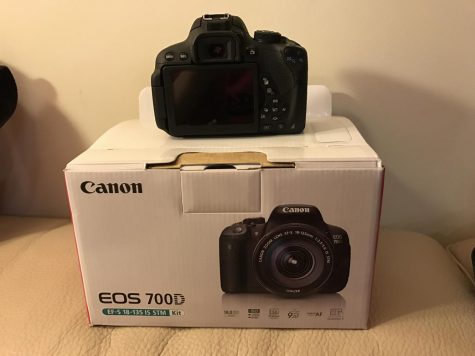 For camera body, I purchased the international version of a Canon EOS Rebel T5i DSLR Camera. The T5i is a standard camera that most students use for basic photography in school settings. It has a touch-screen feature that allows the camera owner to browse through photos with just a swipe of the finger. I chose this model not only because I had previous practice with this camera, but also due to its price range. The price range of this camera body only is around $500.
For students who may be interested in pursuing professional photography, the Canon 80D is recommended. The 80D allows a wide-range and highly precise autofocus (AF), providing users with 45 focus points for higher quality images. This camera, body only, ranges around $1,200 in price.
Lens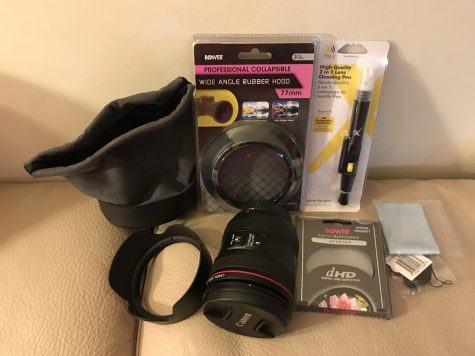 My decision in my selection of a camera lens relied heavily in the purpose of lens. As a student journalist, my main focus is on covering special events within the school, sports games, and portraits. I found that three distinct lens can serve to specialize in school journalism's three principle photography purposes.
Canon EF 70-200mm f/2.8L IS USM II
The 70-200mm lens is most known for its wide zoom range. For this reason, this lens used frequently to cover sports on the field, allowing for distance between the photographer and the subject of the photo. In addition, the 70-200mm's zoom also allows for background compression, which brings better focus to the subject rather than the background. Although great for wide shots and field photos, it is not the best for close-distance subjects in events nor single-shot portraits. The price of the 70-200mm f/2.8 hovers around $2,000 while the 70-200mm f/4.0 may be between $600 and $700. The main difference between the two is the amount of light the lens lets in; the lower number, 2.8, allows for more light in the photos.
Canon EF 50mm f/1.8 STM Lens
The 50mm lens, although not ultrawide, is limited in its zoom range. This creates a great way to get close-up photos of subjects in portraits. The 50mm also works well in photoshoots, where the photographer is in close proximity to his or her subjects, and builds a more intimate shoot. The price of this lens tends to be between $100 and $150. Especially for student journalists interested in portraits and single shots, the 50mm is an extremely affordable and efficient lens to use.
Canon EF 24-70mm f/4.0L IS USM Lens
I chose to purchase the 24-70mm lens. This lens, in a way, stands between the two previous lens choices. It thrives in capturing photos in the school setting and social events. The cost is around $700, making the price similar to that of the 70-200mm. Additionally, the problem of the lack of ability of the f/4.0 in allowing a lot of light into the lens can be addressed with the attachment of a flash.
Package Deals or Separate Purchases?
It's important to recognize that when purchasing camera bodies or lens, other necessities are still needed. This includes SD cards, camera chargers and batteries, and camera bags. In most cases, the cameras and lenses may come in packages or kits with the other camera-related gadgets. In deciding between these package deals and separate purchases, I put the most consideration on the cost and quality. Calculating the total cost is essential as this point so that the final sum does not exceed the initial budget. Additionally, the camera bag included in the package deal, for example, may not be ideal style, type, nor the size. In this case, the quality of the products included in the package must also be considered.
For me, I chose to buy the camera, lens, and other necessities separated. I found that the final cost was extremely similar for the package deals and the separate purchases. However, I found that choosing my own camera bag, brand of the SD cards, and number of chargers and batteries gave me more freedom in my purchase.
Final Steps and Precautions
One of the biggest steps forward as a photographer is getting a camera, however, it is what the photographer does with the camera that allows him or her to grow in the respective photography endeavors. Practicing with the camera settings and relying on manual are crucial to advancing into photography. Additionally, camera maintenance is a must as a new owner. Store cameras and lenses into safe locations away from breakage, clean the lenses, and handle the camera with care.