Highlights of J-Day
One of the most highly anticipated events of the year is J-Day, an afternoon of games and festivities. Every year, J-Day has been amazing, and this year's was as wonderful as ever. Here are some highlights of 2017's J-Day.
The Backwards Bike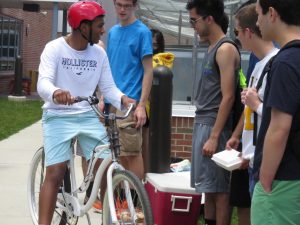 Ashley Huang
Designed and fabricated by the Neuro lab, the Backwards Bike seems like an everyday normal one, but hop on and you'll discover that it's designed to feel like it's rolling backwards while you're pedaling forwards! Faced with the challenge of this tricky bike, only two talented people have managed to ride the 15 meters needed to win $100.
Art Club's Tie-Dye Shirts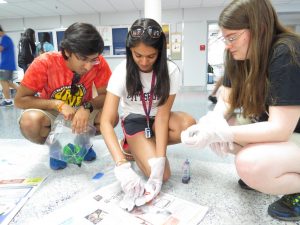 Rena Cai
J-Day has a multitude of food stalls, which might get tiring after a while. Luckily, the Art Club hosted an event where you could design and make your own colorful tie-dye shirt. If you weren't confident in your artistic skills, though, or didn't want to get your hands stained with the dye, you can commission art club members to make one for you.
Karaoke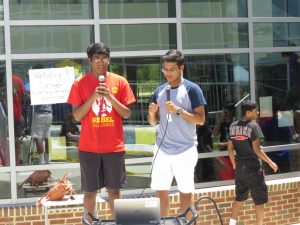 Rena Cai
No J-Day is complete without the traditional karaoke. Those brave enough can showcase their talents in the courtyard for free while those who just want to sit for a while and relax can enjoy a parade of enthusiastic singers.
Cosplay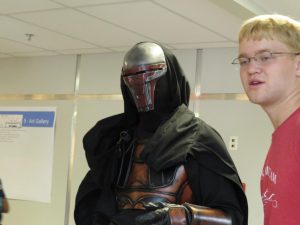 Rena Cai
With a theme like Star Wars for this year's J-Day, it's no surprise that Star Wars enthusiasts showed up to school clad in entire costumes from head to toe.  Such costumes were scattered throughout the crowd, a pleasant surprise for those who stumbled across them.
Face Paint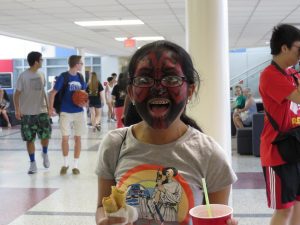 Rena Cai
Nothing screams a "fun day out" like face paint. From small and discreet hand art to full on face masks, the talented members of the National Art Honor Society painted customized designs which delighted their customers.
Performances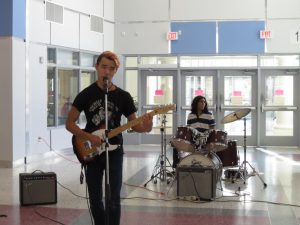 Rena Cai
For the entire duration of J-Day, musicians and dancers alike signed up for a 10-minute slot to perform to their heart's desire at the Nobel Commons. A popular spot among the school, J-Day enthusiasts sat back and relaxed on the couches to listen to the performances. Pictured above is senior Joshua Cummings, who sang, played guitar, and accompanied the Jefferson band.
Political Pancakes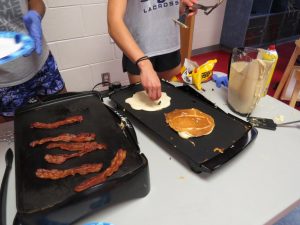 Rena Cai
Featured by seniors Tim Cho and Sean Tran on SGA Senior Picks, Young Democrats' Political Pancakes was a huge hit among J-Day goers. Ranging from a wide spectrum of possible toppings to choose from, every other kid you walked past during J-Day probably had a plate of Political Pancakes on their hands.
Henna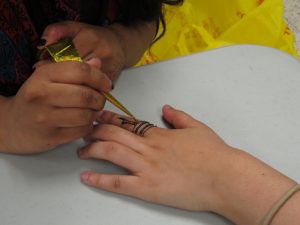 Rena Cai
Muslim Student Association served Middle-Eastern foods from fast food franchise The Halal Guys, all while offering henna tattoos, a dye prepared from the plant hina and often applied onto the skin as a paste, for $4 per hand. It wasn't common to see painted hands and arms on students heading home from a busy yet fun J-Day.
Yakisoba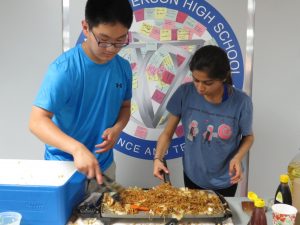 Rena Cai
Selling out before J-Day was half over, Japanese Honor Society's yakisoba booth, placed right outside the Nobel Commons, was a hit with the students. Their live cooking spread the delicious aroma throughout the hallways as well as introducing a dish that is often sold in both Japanese traditional and school festivals.
Bratwurst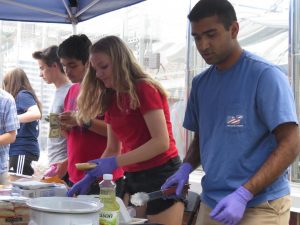 Rena Cai
Enter the courtyard and you'll be hit with the hot scent of bratwurst, a type of german sausage. German Honor Society (GHS) served bratwurst among other traditional German foods during J-Day, it's presence undeniably recognizable among the smells of the other food booths. The GHS shut their booth down only an hour into J-Day due to the popularity of their bratwurst.