Stress Less Laugh More Week hosted by TJ Minds Matter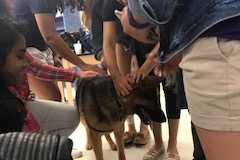 With AP exams just around the corner, Jefferson's annual Stress Less, Laugh More Week (SLLM), from April 24 to 28, was held to alleviate some of the stress students can face. Each day focused on a certain aspect of promoting mental health from Pajama Day on Monday to Nutrition Day on Thursday. The week was hosted by TJ Minds Matter, a club that serves to increase awareness and support surrounding mental health issues.
"Stress Less Laugh More Week's primary objective is to take students out of the state of discomfort and stress and put them in a mind of relaxation which will help them focus for AP weeks," historian and sophomore Vik Mahajan said.
Preparations for the week started as early as September, to ensure enough time to plan out and refine each day's theme and activities as the week drew closer.
"In the two or so weeks leading up to SLLM, we started making all the posters, ordering the wrist bands, and doing all the other logistical stuff in addition to our normal club activities," treasurer and junior David Yan said.
Throughout the week, each activity was carefully chosen to make students feel happier and provide them with advice on how to live a healthier life at Jefferson, including parfaits for students.
"We offered free parfaits this year not only to encourage healthy eating, but just to give the students a free snack that hopefully put smiles on a few people's faces," Yan said.
Yan believes SLLM has been effective in helping him stay relaxed and keep his mind off of schoolwork for a while.
"I feel like some of the activities really do work, like the polaroid pictures. Spending an 8th period with some friends just taking cool pics with a polaroid was a great way to take my mind off of upcoming tests and just overall calm me down," Yan said.