From deer pellets to DNA extraction, Jefferson freshmen complete complex procedures with IBET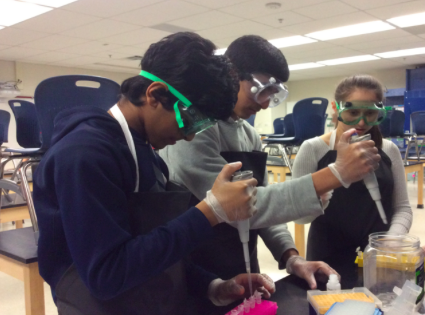 After many long days of searching and scavenging in the woods of Mason Neck Wildlife Refuge, students return to Jefferson proud and excited with fecal pellets they retrieved from the white-tailed deer. Proud and excited about feces? Yes, because these students had opportunity to utilize Jefferson's wealth of biology resources and technologies to analyze the fecal pellets for information such as each white-tailed deer's gender, population dynamics, and diet, which they would then incorporate into their IBET research projects. Students accomplished this through many meetings during eighth period and after school that Jefferson teachers sponsored and encouraged.
Washington State University, University of Nebraska, Purdue University, and (MIT) are just some of many universities conducting the DNA extraction lab at their facilities. However, many high schools in the United States do not conduct the DNA extraction lab as it requires extensive funding and staff commitment, but at Jefferson, students regularly participate in DNA extraction, as it is well funded by Jefferson's administration and regularly sponsored and supported by teachers. Biology teacher Mrs. Holman, for example, volunteered to assist the students in the DNA extraction lab, dedicating her time and efforts to help the students excel.
"This biotech research is normally conducted by colleges and universities, but thanks to the efforts of Jefferson's administration and Mrs. Holman's knowledge, we were able to get a head start on beginning this aspect of research," said freshman Chris Jose.  
In addition, the DNA extraction lab consists of complex steps and procedures such as breaking off the end of a Zymo-Spin IV Spin filter, adding 1200 milliliters (uL) of fecal DNA binding buffer to the filtrate in the collection tube and spinning the collection tube in centrifuge at 10.9 revolutions per minute (rpm) for three minutes. These crucial steps are required to be executed accurately as they lead to errors and mistakes otherwise, which invalidates the DNA to be analyzed. Because small errors and mistakes occurred last year, IBET students were forced to analyze the DNA from deposits from the tissue of the organism instead of from the fecal pellets they had worked to collect. The DNA extraction lab incorporated other complex yet interesting steps and procedures.
"The most interesting activity involved in the DNA extraction activity was that we got to use the pipettes to prevent the fecal pellet from eroding," freshman Ray Bai said. "Also, Mrs. Holman demonstrated how to utilize the micropipettes and the equipment, and without Mrs. Holman's assistance, I know that we could not complete the task, due to the complexity of the DNA extraction procedure."
Koushik Thiyagarajan, a freshman currently researching on the DNA analysis for his research project expresses his experience collaborating with other students on the DNA extraction for the analysis.
"In addition, an interesting aspect is that before the DNA extraction procedure, prerequisites were needed to assure that the DNA deposit were well intact for extraction for further analysis, and I greatly enjoyed participating in the DNA extraction lab, as it was a new experience for me, in terms of experimenting." said Thiyagarajan. "I accidently dropped the pipette tube when utilizing the micropipette, but was later corrected and instructed by Mrs. Holman on the proper technique on how to correctly utilize it. Overall, I had a wonderful experience collaborating with my peers and the biology teacher, Mrs. Holman."