Taking a shot at soccer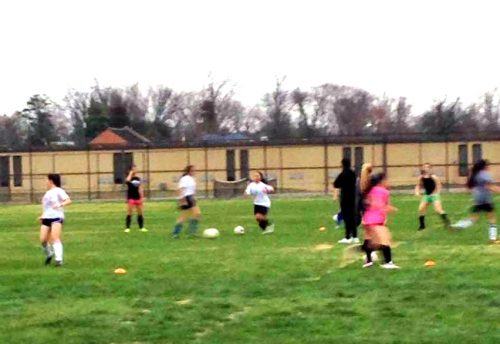 As winter draws to a close, athletes at Jefferson look forward to spring sports. Although teams such as girls soccer started with player shortages, in the end, they were able to recruit enough players to create both junior varsity (JV) and varsity teams.
On the first day of tryouts, girls soccer did not have enough players for a JV team, but in the end, cuts had to be mare due to over-recruitment.
"They had a lot of people show up, so now they're making cuts," freshman Khushie Matharoo said.
The process of cutting leads to a more skilled team.
"Obviously, when you have tryouts, then you can have a pick of people who are maybe more experienced in soccer," junior and longtime player Sherry Xie said.
However, this surprise competition for team spots made it harder for new players to join the soccer team.
"I feel like it's more competitive for the people who don't know much about soccer because there are more of them," Matharoo said.
Despite the fact that most players have played soccer before, some new players have tried out. On Feb. 24, tryouts ended and roster was set.
"For our JV team, I think most have played either at some point in their lives or currently playing, but there are always a few who have never done it before," Xie said.
Players look forward to improving their soccer skills throughout the season.
"I play goalie, I guess if I get better at it, I think I'll be a good part of the team," Matharoo said. "[I want to improve] diving and not being that scared of actually going to get the ball. I've had bad experiences with that."