The 74th Annual Golden Globes: Hollywood and its role in politics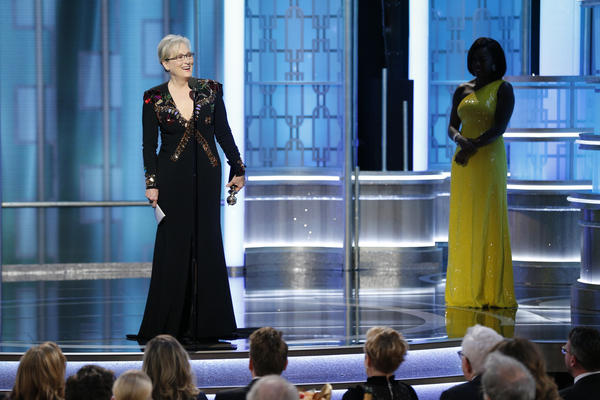 The beginning of a new year signifies different things for many people, in some cases it is the time to reinvent oneself and take on some new year resolutions, for others it's sign of surviving into another year of life, and for many celebrities, it's award season.
The first major awards show of the year is the Golden Globes, and this year on January 8th the 74th annual Golden Globes was hosted in Beverly Hills, California. Many films and shows were nominated for categories in "Comedy and Musical" and "Drama", and to the surprise of almost noone, Ryan Gosling and Emma Stone's La La Land swept every single award it was nominated in, making Golden Globes history.
But aside from their big win, it was also a big night for people of color, specifically black performers such as Viola Davis (Best Actress in a Supporting Role in a Motion Picture), Donald Glover (Best Actor in a Television Series – Comedy or Musical), Tracee Ellis Ross (Best Actress in a Television Series – Comedy or Musical), and the cast of Moonlight (Best Motion Picture – Drama). However, this does not come close to the record making wins in 2007 by actors of color, an admittedly measly four total. Which brings us to our next point, the Golden Globes and it's desperate clinging to it's identity as "the more progressive Oscars."
Yes, the Golden Globes definitely beats the Oscars when it comes to nominating people of color, much less having them win actual awards. But we must consider, is this being done just because the Golden Globes want to maintain the views as a "more progressive Oscars," or are they just more progressive in reality. No matter the situation, the white people running the Golden Globes and the white actors tasked with important roles in the event need to try harder when it comes to erasing microaggressions. For those who may not know, microaggressions are defined as actions and statements that are full of subtle, and sometimes unintentional, racism. It's not as bad as flat out racism, such as violent stereotyping and flat out degrading certain races, but it's still an issue because it allows casual racism to occur and be seen as acceptable.
The first noticeable instance was during the pre-show interviews with Jenna Bush Hager, who when asking Pharrell Williams about his nomination for his work on the Hidden Figures soundtrack referred to the movie as "Hidden Fences", a combination of the names of two films nominated which have primarily black casts. This could have easily been pushed off as a simple flub, a mistake that an interviewer made in the heat of the moment, but then an actor who was presenting the award for Best Supporting Actress in a Motion Picture also called the movie Hidden Figures "Hidden Fences". This solidified that it was more than a mistake, it was part of a systematic issue where white people see movies with mostly black casts as "black movies" and not "movies with black casts and vastly different plots". If anything, it was more expected that The Night Manager and The Night Of would be mixed up due to their similar names, but that wouldn't happen because they are two very different films and the person saying the nominations was well aware that there is indeed a difference between the two.
Another incident was during a short segment after a commercial break, where Julia Louis-Dreyfus was shown pretending to be Questlove DJing the show, complete with an afro pick in her straight hair. It's a small issue that not many would care to notice, but one must wonder why Louis-Dreyfus, a white woman, felt the need to use an afro pick in order to make her seem more like Questlove who is black and was wearing an afro pick that night. The joke itself was not even that funny, and the microaggression within it made it cringey.
Overall the night wasn't too bad, with celebrities making sure to point out the prejudice growing in our society due to political shifts, and how it is important for people in the spotlight to use their voices wisely, making sure to foster peace and acceptance, not violence and hatred.
As Meryl Streep so elegantly put it "Disrespect invites disrespect. Violence incites violence. When the powerful use their position to bully others, we all lose. OK, go on with that thing. OK, this brings me to the press. We need the principled press to hold power to account, to call them on the carpet for every outrage … Tommy Lee Jones said to me: "Isn't it such a privilege, Meryl, just to be an actor?" Yeah, it is. And we have to remind each other of the privilege and the responsibility of the act of empathy."
We may have our complaints about the insensitive actions by a few people at the Golden Globes, but we also applaud the many who were sure to own up to their privilege, and to the power they hold over modern society.