Top 16 of 2016: Songs
When it comes to music from this year, not all of it may have been what we expected, but there were definitely some greats. Below are, in no particular order, my choice of the top 16 songs of 2016, with a mix of genres and artists that hopefully everyone can enjoy.
1. Without the Lights – Elliot Moss
One of the best songs this year had to be "Without the Lights," an Indie/Alternative song produced and written by Elliot Moss. The song's amazing beat and deep undertones truly keep listeners enthralled. However, not only does the song itself have a powerful tone, but the video and visuals also play a large role as well. The video for the song helps amplify the meaning behind the lyrics, and helps listeners better understand the songs strong message about rape culture.
2. Light the Sky – Grace VanderWaal
Unless you heard of "America's Got Talent," from this year, you probably will not recognize 12-year-old singer-songwriter Grace VanderWaal. VanderWaal won the national talent competition this year for her amazing voice and original pieces, one of which includes the powerful song "Light the Sky." With variations from the live performance, this song, and others on her album "Perfectly Imperfect," feature her voice and her ukelele as two key components. But even then, the song is able to magnify the power and emotion in her voice like unheard of for someone her age, and is something for anyone of any age to listen to and enjoy.
3. Do You Miss Me At All – Bridgit Mendler
Singer-songwriter Bridgit Claire Mendler has shocked her listeners with a new tone to her music with her new EP "Nemesis." Her last full album was released in 2012, and her last EP was from 2013. Since then, her music has changed dramatically, but all for the better. Her music has shifted from having more of a 'pop vibe' to now being thought of more as a mix of soul, R&B, trip hop and alt-pop, which can clearly be seen with the song "Do You Miss Me At All." In this song, Bridgit's smooth tones and emotions can be heard loud and clear, and are all greatly appreciated by her fans who are looking forward to what she will be doing next with this new style of music.
4. DNA – Lia Marie Johnson
Another powerful song on this list, "DNA" was singer Lia Marie Johnson's only song of 2016, but it is definitely worth a listen. Based off her real-world experiences, the song was inspired from Johnson's father's battle with alcoholism and his abuse of Johnson's mother. Such imagery is seen not only through the lyrics, but also through the scenes of the accompanying video. "Conveying the real events that took place would've probably been too dark for a music video," Johnson said in an interview with V magazine. "I still wanted to tell the story but I wanted it to be artistic and also connect with as many people as possible."
5. Guillotine – Jon Bellion ft. Travis Mendes
Singer, songwriter, rapper, and producer Jon Bellion wrote the song "Guillotine" as part of his 2016 album, "The Human Condition." When I first heard of this song, I was quite intrigued, and this intrigue intensified as the slow beat of the song was joined by sounds of violins, and later transformed into a catchy beat accompanied by Travis Mendes. While some of the other songs he has produced for other artists like Rihanna, Eminem and Jason Derulo have become hits, this one is definitely one of his best, with a rhythm that never gets old and keeps you listening for as long as possible.
6. Prism – Lindsey Stirling
A breakout artist in the past few years, violinist Lindsey Stirling has shattered people's expectations of what it means to have a starting on YouTube. As part of her 2016 album "Brave Enough," the song "Prism" shows off her continually amazing violin skills as she plays 5 different characters, all inspired with different clothing styles and personalities to fully represent how she feels. The upbeat, electric sounds of her violin are fantastic, with this song definitely acting as a stand out for her this year.
7. My Way – Calvin Harris
Singer-songwriter Calvin Harris came out with another hit single this year with the release of his song "My Way." While the song has a catchy beat and exciting rhythms, many people have linked the lyrics of the song to his breakup with Taylor Swift. Lyrical components and visual aspects of the song led listeners to believe that there were hidden messages to the song, yet nothing official was released. Regardless, the song is worth listening to no matter where you are, as the electronic vibe and unique visual style is unlike others on this "Top 16 of 2016" list.
8. La Bicicleta – Carlos Vives and Shakira
Another upbeat song that everyone should take a listen to is Carlos Vives and Shakira's 2016 song "La Bicicleta." Both Shakira and Carlos Vives are Colombian composers and singers; with Shakira in particular, she only had three songs in 2016, with her last songs being from 2014, so it was great to hear this collaboration between two great artists. With a message of positivity and happiness, "La Bicicleta" is definitely a song that can raise anyone's spirits any time of the year.
9. Body Moves – DNCE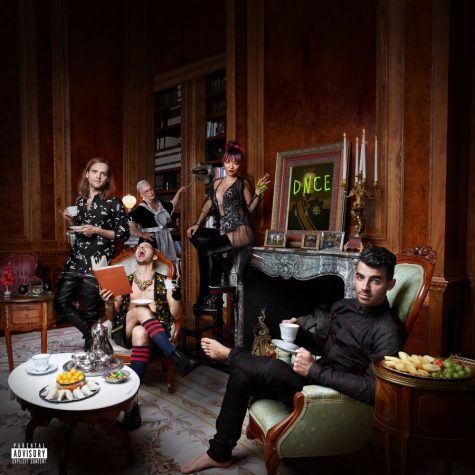 "Body Moves" is just one song in DNCE's 2016 self-titled album that many were anticipating. DNCE is made up of vocalist Joe Jonas, guitarist JinJoo Lee, bass guitarist Cole Whittle, and drummer Jack Lawless. One of the biggest transformations listeners have seen is through the vocalist himself, who used to be part of the kid-friendly band "The Jonas Brothers." His image continues to shock past fans with the release of this new song, the video of which is quite risqué, to say the least. Nonetheless, the rock beat and dance-like rhythm of the song are just part of what put "Body Moves" on this list as one of the top 16 songs of 2016.
10. The Christmas Sing-Along – Pentatonix
The list wouldn't be complete without a Christmas song, and not many can compare to the upbeat vibes and wonderful vocals of "The Christmas Sing-Along," just one of the multiple songs that were released as a part of the acapella group Pentatonix's Christmas album, "A Pentatonix Christmas." After winning the third season of the NBC's The Sing-Off, Pentatonix became famous with their outstanding covers and superb originals, including this song itself. The group includes vocalists Scott Hoying, Kirstin Maldonado, Mitch Grassi, Avi Kaplan, and Kevin Olusola, and even though the holidays may technically be over, that's no reason why you still shouldn't listen to this amazing, positive song.
11. Non-Stop – Hamilton
If you haven't heard of about Alexander Hamilton at all in 2016, you must have never left your home. One of the biggest events of 2016 included the release of the Broadway musical "Hamilton," composed by Lin-Manuel Miranda, which details the life of the historical figure Alexander Hamilton through song and dance. One of the best songs from the musical included the song "Non-Stop," which describes part of Hamilton's journey and his decision to write the Federalist Papers. The outstanding, powerful vocals and wonderful beat are truly worth listening to, if you haven't already heard them by now.
12. Aloha – Møme ft. Merryn Jeann
French DJ Møme had success with his new song "Aloha," which reached the charts as #10 in France. Part of his album "Panorama," "Aloha" is a song for people who want to lie by the beach or dance in their rooms. The head-bobbing vibe and electronic feel is unlike any other on this list, and is enough to anyone to forget the world around them and just enjoy the present, something I think we could all use every once in awhile.
13. Close – Nick Jonas ft. Tove Lo
Not only did Joe Jonas find success this year, but so did his brother, Nick Jonas, with the continuation of his music career and the release of his song "Close," as part of the album "Last Year was Complicated." The passionate song and lyrics are accompanied by the vocals of singer Tove Lo, who is able to add another layer of depth to the song with her unique style. The deep meaning of the song is also seen through its visuals, and is something for everyone to see.
14. Perfect Illusion – Lady Gaga
Lady Gaga continues to amaze the world with her astounding vocals in the song "Perfect Illusion," part of her 2016 album "Joanne." She has continued to gain an audience for years, due to her strong lyrics and deep messages throughout many of her albums, including that of 2016. "Perfect Illusion" exemplifies the strength and rock of Gaga's voice that we all recognize her for, and leave listeners wanting more.
15. Let Me Love You – DJ Snake ft. Justin Bieber
Singer-songwriter Justin Bieber collaborated with French DJ and record producer DJ Snake to create the song "Let Me Love You." And while the song itself has a catchy vibe and upbeat tone, many have been shocked by the video itself, which consists of two teenagers making their lives as robbers and lovers. However, viewers soon discover the entire video to simply be a video game, with the two 'lovers' being played as a boy and an old man in different parts of the world; thus, the interesting video design and amazing beats keep listeners enthralled until the end, as was I.
16. The Greatest – Sia ft. Kendrick Lamar
Sia outdoes herself yet again with the release of her song "The Greatest," a single that was released from the deluxe version of the 2016  album "This is Acting." The music video also stars the amazing dancer Maddie Ziegler as the main figure in the song. Many have associated the meaning of the song with the Orlando shooting at the Pulse Nightclub in June of 2016. Imagery from the video that suggests such an idea includes the rainbow-colored streaks on her face, and the 49 bodies on the ground seen near the end of the video, which matches the number of people who were killed during the shooting.